Since June 2012, The Digital Hippies has been helping people learn how to create financial and location independence. Not a get rich quick scheme to making money online. We're talking valuable and helpful information that helps all kinds of people leave the rat race, for good. It's all about freedom. The freedom to live and work anywhere.
These days, that's called location independent. As The Digital Hippies' founders we have been (semi) location independent since 2012, after several years of moving around Southern California.
What started as a blog project between husband and wife, TheDigitalHippies.com quickly grew into the development of software (in the works) and training resources. There are no shady tricks, transparency is everything here. And it is all done with you in mind, from practical real-world experiences to struggles we see every day (in ourselves and our audience) to tutorials helping beginner and advanced website developers to favorite recipes and everything else in between. It's all to benefit our readers, without charging you a dime.
Why The Digital Hippies?
Meant to be as transparent about everything (from RVing to making money online), The Digital Hippies shares our real-life situations living in a RV, business strategies to make money online and much more. It's meant to teach and inspire. Hopefully these stories – from triumphs to personal struggles – and tutorials will help you reach your goals.
What can you expect?
It's not (just) about living in an RV.
It's not (just) about making money online.
It's not (just) about location reports or building a blogging website.
It's about the bigger picture. If you're not already doing business online or full-timing in a RV (but you are thinking about it), then you'll want to understand all the aspects. And here it will be covered… for free.
About Founders Branndon and Brianne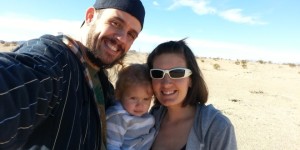 Hi. We're Branndon and Brianne. We founded The Digital Hippies in June 2012. He is the technical "web guy" and she is the artistic writer. (He's always trying to figure out how to accomplish whatever she imagines.) Both of us are serial entrepreneurs who want financial and location independence.
Together we have built several online (and offline) businesses that generate profit, but without the stability to allow Branndon to fully quit his daytime job. This website was created to chronicle our journey, helping others learn along the way.
Back in 2009 Branndon worked for an RV dealer and first discovered the idea of full-timing. It resonated with us both immediately and quickly became our dream… to do in the future. Fast forward to 2012 and his pay being cut in half was a blessing in disguise. That earlier dream became a reality. Within 3 months we had sold (almost) everything and bought a travel trailer.
Branndon, Brianne, our toddler (referred to as 'Spirit' on the site for safety concerns), a Golden Retriever and two cats moved into the new 31 foot home on wheels. We didn't win the lottery. We drive a 2004 Toyota Prius. And we are figuring out how to be full-timers one day at a time… you are invited to tag along for the journey.
This site is dedicated to helping others learn the skills of making money online, share their own experiences living in a RV full-time and promote the location independent ideal.
If you would like more information about The Digital Hippies, please get in touch with us through our contact page. You can also follow us with RSS, Facebook, Twitter, Pinterest or YouTube.
Subscribe to The Digital Hippies
Please stay in touch with what we are up to by signing up to receive free weekly email updates.