While browsing my files and folders on my computer I came across these butterfly icons I created for another website project a few years ago. Instead of letting them sit on my computer doing nothing I thought I'd give them away, for free. You'll find four icons within this set, including an icon for email, RSS, Facebook, and Twitter. (Pinterest didn't exist back then.) It seems fitting to release this icon set now as butterflies and springtime just go together.
(Hippies' Note: If you enjoy reading our articles, you'll love our newsletter. Receive updates directly to your inbox. Subscribe now!)
Original Inspiration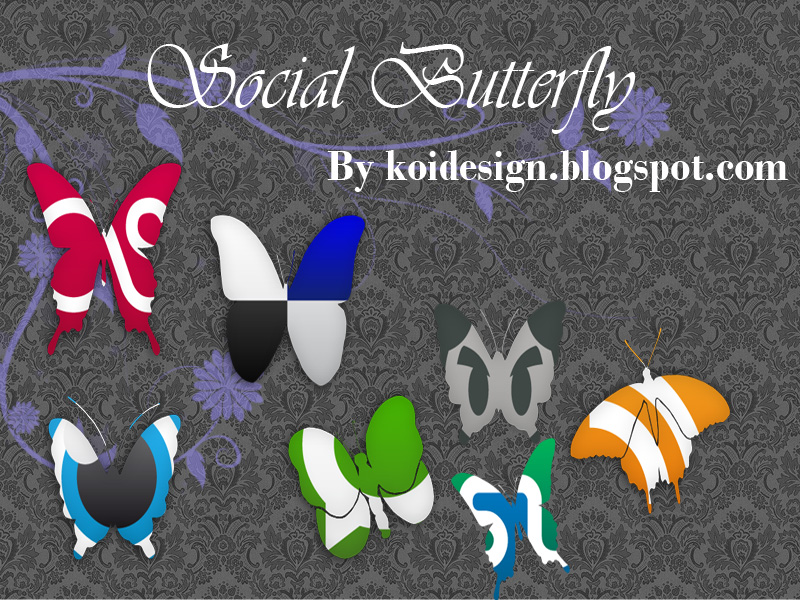 I cannot remember how I found this set, but the original inspiration for creating these four butterfly icons is from the Social Butterfly bookmark icon set by koidesign. (You can download it for use from DeviantArt.com.)
At the time I loved (and still do today) butterflies and was already using them in the design for my first blog, NaturallyEarthFriendly.com. I wanted to change up the site and bring more modern elements into the design, yet I wanted to keep the butterflies for a little consistency. After seeing this beautiful idea for a set of icons I wanted something similar for my social links. So I made my own! And I was beyond excited as this was many years ago.
Free Download: Butterfly Icon Set
Unfortunately I could not find the original Photoshop file for these icons, so these are already shown at full size. They are PNG files (.png) and have a transparent background. You can click the icon you wish below to be taken to that image or download all four as a zip file below. (Please note if you click on the image you will need to 'right-click' on the image once it opens and select 'save as'. You can also do that on this page.)
This is a free download and you are welcome to share it, but please link them to this page (http://thedigitalhippies.com/butterflyicons) to get the download. Thanks. 😀
If you end up using these on your website, let us know with a link in the comments to your site.