People want to ensure their privacy when they visit websites. This is especially true on websites where they will be entering personal financial information, like a credit card to make a purchase. However, a website's privacy policy can take a lot of time and effort for someone without a law degree. That is… until now.
Free Privacy Policy by Trust Guard
A perceptive online tool offered by Trust Guard that allows you to create a basic (you have to buy a plan for a more advanced version, or more than one) website privacy policy. Their intuitive tool generates the policy for you to use on your website at no charge.
(Hippies' Note: If you enjoy reading our articles, you'll love our newsletter. Receive updates directly to your inbox. Subscribe now!)
(You will need to provide your email address to access the completed Privacy Policy by logging into their Privacy Policy Manager.)
Do I need a privacy policy?
There are websites of all shapes and sizes, but they tend to fall into one of three general categories. This includes websites that 1) allow visitor interaction without needing to register an account, 2) have visitors create accounts to interact, and 3) sell (products or services) or collect (donations) something.
Website owners, even bloggers, should have a privacy policy. Depending on your area you may actually be required to have one to comply with your state and federal laws.
Thankfully there are several free tools online to generate a privacy policy for you. One is Trust Guard. Trust Guard, a third-party system that verifies Internet website security, gives website owners the opportunity to create one (1) free Privacy Policy.
What is a Privacy Policy?
Privacy policy is a statement or a legal document (privacy law) that discloses some or all of the ways a party gathers, uses, discloses and manages a customer or client's data. (Wikipedia)
You don't really need to know too much about the legal jargon and language used as the tool will ask you certain questions (fill-in-the-black, radio, and checkboxes) to complete the policy.
For those of you who want to know, you are basically letting your website readers know what you do with their information. Here are a few questions you will need to answer.
Do you collect any information when people visit your website? Perhaps you collect email addresses for a newsletter.
What kind of information do you collect? Names, email addresses, mailing addresses, etc.
What do you do with that information? Do you collect it for future email promotions? Do you sell that information? People want to know what you will do with any information you collect from them.
Creating Your Privacy Policy
To create your policy go to FreePrivacyPolicy.com and click the big 'Click Here To Get Started' button. Simply read through the questions and answer accordingly. It is obviously made for websites and is very easy to understand (not much legal jargon that doesn't make sense to a normal person).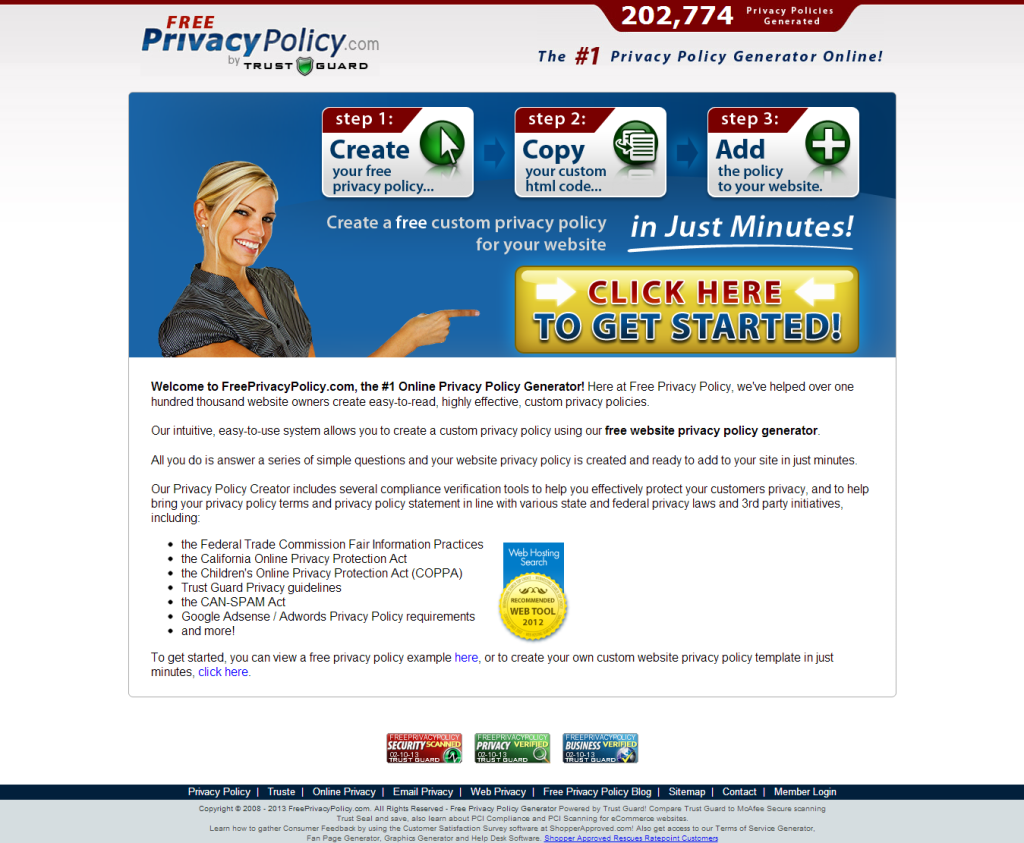 (Note: You will be shown a sales pitch, two actually, after completing your policy. If you are not interested just scroll to the bottom and click 'No thanks' like I did.)
You'll finally land on a page with a 'Congratulations' banner and video. Just under the video you'll see your information to log into the privacy policy manager. This information will also be emailed to you at the email address you provide.

To view, edit, or delete your privacy policy click the appropriate button. You'll want to 'View/Edit' your policy to copy it for your website page.

You will see a visual editor with the completed policy and an HTML coded version. Simply copy the HTML code to your clipboard (Control + C) and paste that into your page HTML.
WordPress Users: You'll find this option as 'Text' in the upper right corner, next to 'Visual', of your Page editor.
Here's our Privacy Policy (created by Trust Guard) for you to view a completed policy.