This tutorial will walk you through how to add a highlighter effect in Photoshop CS6. In this example you'll see I've used the traditional highlighter color of 'yellow' to add emphasis to the text 'Highlight Text'.

(Hippies' Note: If you enjoy reading our articles, you'll love our newsletter. Receive updates directly to your inbox. Subscribe now!)
First you'll need to open the PSD file (.psd) you wish to add the effect to.
Add a New Layer
Create a new layer, this is where the yellow box will be placed. There are a few different ways to create new layers in Photoshop CS6.
Layers Panel (see image below): Click the 'Create New Layer' icon located directly to the left of the trash can. 

To open the 'Layers Panel' go to Window > Layers or use the keyboard shortcut (F7).

Layer > New > Layer…
Keyboard Shortcut: Hold down Shift + Control + N.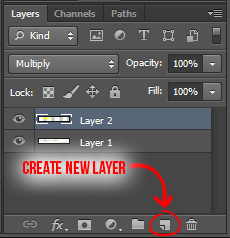 Make sure you are on the new layer you created (for the example it's 'Layer 2').
Select Your Area with Marquee Tool
You'll need to select the 'Marquee Tool' (see image to the left), I'm using the 'Rectangle Marquee Tool'. This is found in the 'Tools Panel'. If your Tools Panel is not open, you can open it by clicking on 'Tools' in the 'Windows' options (Windows > Tools) or use the keyboard shortcut (M).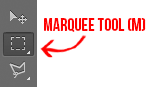 (Tip: To switch between the Rectangular and Elliptical marquee tool hold down Shift + M.)
Using the 'Marquee' tool select the area that you want to highlight. And fill that in with your highlighter color (this example uses yellow).


Layer Blend Mode: Choose Multiply
Now just set the layer blend mode to 'Multiply'. You can find this in the 'Layers Panel', default is 'Normal'. (Note: You can't use the Opacity to make this effect as the color becomes too transparent and you lose the yellow in order to read the text.)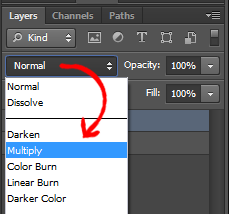 This technique works very well when the text being highlighted is darker than the background it is on. If your text is lighter than the background, then it will look a little odd. To account for this choose 'Overlay' instead of Modify for the layer blend mode.
What Photoshop tutorial would you like to see? Let us know in the comments below.