When TeuxDeux first launched in December of 2009, it was a simple, well-designed web-based 'to do' list app created for personal use by the swissmiss design blog/studio. Today it's grown into a huge following of over 300,000 users. And it was completely free – at least it was.
Major Changes: Now There's a Fee!
Logging into my TeuxDeux account today I was greeted with this lovely little message (hint: that was sarcasm):
(Hippies' Note: If you enjoy reading our articles, you'll love our newsletter. Receive updates directly to your inbox. Subscribe now!)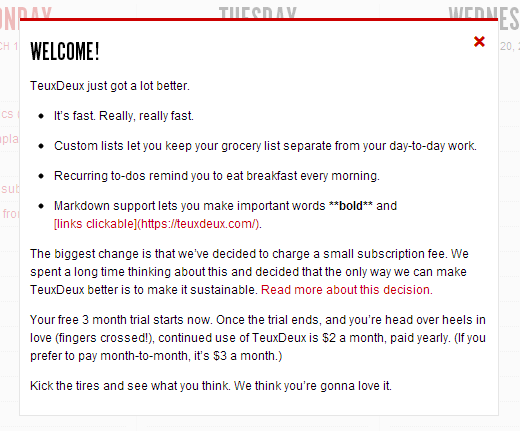 Transcript of Screenshot Above
Transcript of Screenshot Above
Welcome! 
TeuxDeux just got a lot better.
It's fast. Really, really fast.

Custom lists let you keep your grocery list separate from your day-to-day work.
Recurring to-dos remind you to eat breakfast every morning.
Markdown support lets you make important words **bold** and [links clickable](https://teuxdeux.com/).
The biggest change is that we've decided to charge a small subscription fee. We spent a long time thinking about this and decided that the only way we can make TeuxDeux better is to make it sustainable. Read more about this decision.
Your free 3 month trial starts now. Once the trial ends, and you're head over heels in love (fingers crossed), continued use of TeuxDeux is $2 a month, paid yearly. (If you prefer to pay month-to-month, it's $3 a month.)
Kick the tires and see what you think. We think you're gonna love it.
Naturally I wasn't thrilled by the idea of moving to a paid subscription to continue using TeuxDeux. However, I do love the changes within the app.
There are custom lists that can be created (where the old 'someday' section was), recurring to dos (was the original negative when I started using it), and making items bold, italic or links. That last one is cool too, but not an amazing addition in my eyes.
Regarding the price, $24 a year doesn't sound unreasonable. I really enjoy the simplicity of seeing my lists of tasks. It is a little high if you compare it to Evernote though (at $45 a year). Evernote has WAY more features than TeuxDeux.
Recurring Todos: Finally!
The original negative aspect to TeuxDeux was the inability to add recurring tasks. This limitation kept me from fully using the to do list app earlier and I am very happy to see it added to the app. It sounds easy to use too.
Apparently I just have to add the 'every [day/week/month/year]' to the task and it makes it recurring for me. That's simple (notice a recurring theme?).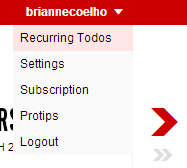 In order to see the recurring to dos you have created, you will need to click the arrow next to your username in the upper right corner of the screen. This will open a drop down and you can select 'Recurring Todos'.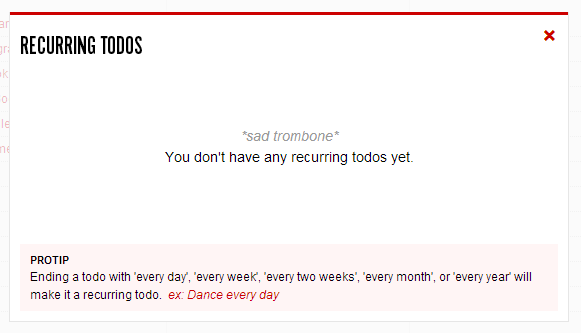 Transcript of Screenshot Above
Transcript of Screenshot Above
Recurring Todos

*sad trombone*
You don't have any recurring todos yet.
Protip: Ending a todo with 'every day', 'every week', 'every two weeks', 'every month'. or 'every year' will make it a recurring todo. ex: Dance every day.
Protips: Helpful Hints
If you ever forget how to do any of these new tricks you can open the 'protips' box. It's a helpful cheat sheet in how to use the markdown (italic, bold or making links) and the recurring to dos.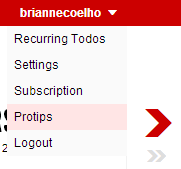 In order to see the  Pro Tips, you will click the arrow next to your username (in the upper right hand corner). This will open a drop down and you can select 'Protips'.
Keyboard Shortcut: Hold down Shift+? to open Protips.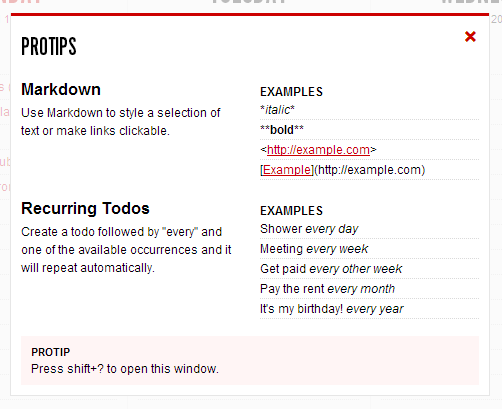 Transcript of Screenshot Above
Transcript of Screenshot Above
Protips
Markdown: Use Markdown to style a selection of text or make links clickable. Examples: *italic*, **bold**, and <http://example.com>to make links ([Example](http://example.com)
Recurring Todos: Create a todo followed by "every" and one of the available occurrences and it will repeat automatically. Examples: Shower every day, Meeting every week, Get paid every other week, Pay the rent every month, It's my birthday! every year.
Protip: Press shift+? to open this window.
Subscription: Okay, so how much?
Again this is a yearly (or monthly) subscription. This isn't the first time they offered something for a price. When they made the TeuxDeux iPhone app it was sold for a one-time payment of $2.99. (Today it appears to be free.) I'm still waiting for the Android version (TodoToday for TeuxDeux) to be updated to match the new website app.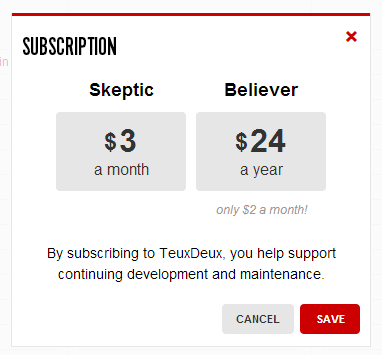 Transcript of Screenshot Above
Transcript of Screenshot Above
Subscription: Skeptic = $3 
a month | 
Believer = $24 a year (only $2 a month!)
By subscribing to TeuxDeux, you help support continuing development and maintenance.
Conclusion: Good for swissmiss
Even though I loved this free tool and was (at first) planning to stop using it once my 3 month free trial period ended, the small price of $24 a year (only $2 a month) will keep me a loving user and fan. Of course, I won't be upgrading my account until I lose my trial period. 😉
I love TeuxDeux. It's exactly what I would have designed for myself to use (if I knew what I wanted). Thankfully the swissmiss team knew what I wanted, because it's what they wanted for themselves. It's like they know me better than me!
Do I wish this tool was still free? Of course, free is always nice. However, they have given it away for free since 2009 and are only charging a small $2-3 a month fee. They are not overcharging simply because they can. They deserve to get paid for their work. And to help with the shift they recreated the entire app from the ground up (with some fantastic features).
Do you have an existing account with TeuxDeux? What do you think about the new subscription model?