Overall this plugin offers a clean, simple interface that is extremely easy to use. This is far easier to use for beginners to WordPress and website building than Contact 7 forms. Even web developers (and those more experienced with HTML) can benefit from the visual nature of creating forms.
Build beautiful, fully functional forms in only a few minutes without writing PHP, CSS, or HTML.
(Hippies' Note: If you enjoy reading our articles, you'll love our newsletter. Receive updates directly to your inbox. Subscribe now!)
Visual Form Builder is a wonderful plugin tool for generating web forms on your WordPress website, whether it is a personal blog or business website. It is not overloaded with options, which helps the ease of use. It's a simple, yet sophisticated, plugin that offers the user functionality. This includes adding multiple custom forms, viewing entries to each form, and exporting the entries into a .csv file.
Benefits
Easy to build a website form
Simple for beginners (to WordPress and websites)
Quick to add to pages/posts
Ability to create multiple forms
Shows entries submitted on various forms
Export as .csv files (other formats available in Pro version)
Disadvantages
The only problem I found was when you create a new form. Besides the 'name your form' field, the others all say "Optional – you can change this later". Unfortunately, the first form I created I left the 'Your Name or Company" blank. After completing my form, I found this was what was needed to say from "My Name" in the email from field when an email was sent out.
The form section showing this blank field was not able to be modified (as well as the "Reply to email" field for your knowledge). I needed to recreate the ENTIRE form to add this. So learn from my mistake.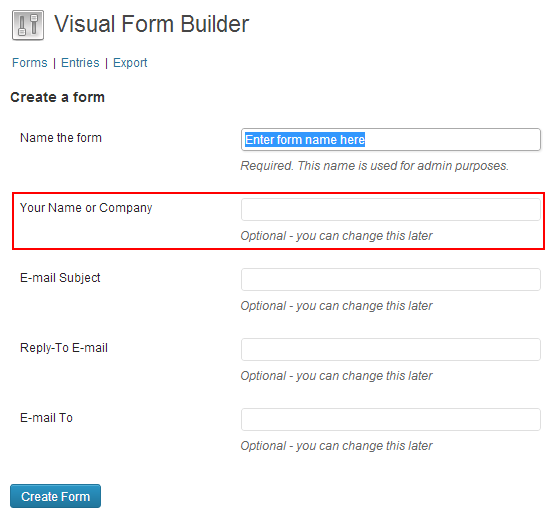 Save yourself the time by avoiding the need to rebuild forms and fill in these two fields when creating your forms with Visual Form Builder.
Your Name or Company
Reply-To E-mail
Upgrade to Visual Form Builder Pro
Only $10 to upgrade to the Pro version, but what do you get? It appears there are many new features available, including:
SPAM verification
Adding new form fields (username, password, color picker, auto complete, hidden and more)
Drag and drop interface
PayPal integration
Editing and modifying entries submitted
Email designer (includes HTML email template and plain text option.
These are not the only newly added features, just the ones that caught my attention. For a complete listing or to purchase the Pro version, please visit their website. Payments are processed with PayPal. There is an option to use a debit or credit card for those without PayPal accounts.
Visual Form Builder: Download Free Version | Buy Pro Version
Developer: Matthew Muro
Other Plugins by Developer: