This is one of my favorite breakfasts to eat on the Paleo diet. It's simple. It's delicious. It's filling. And it's cheap! I can eat it this for breakfast for 4 days for less than $2.50 each day!
I cook up 3 eggs* (with runny yolks, yum), add an avocado, some salsa and fresh cilantro. (If I had bacon or sausage in the fridge, then I usually have only have 2 eggs.) That's it! So easy, right?
(Hippies' Note: If you enjoy reading our articles, you'll love our newsletter. Receive updates directly to your inbox. Subscribe now!)
Pricing Breakdown
Eggs (3) = $0.99 per day
$0.3325 each (Horizon Organic Eggs were on sale for only $3.99)
Avocado = $0.25 per day
$0.25 each (they were on sale; 4 for $1)
Orange = $0.10 per day
$0.10 each, approximately (they were on sale; 5 lbs for $1)
Cilantro = $0.05 per day
It's hard to approximate the price for this as I can get an entire bunch of fresh Cilantro from my local Sprouts for $0.33 sometimes. And that would last at least a week or two.
Salsa = Free
My hubby gets random foods every now and then. This time he brought home two jars of Drew's Organic Salsa, both mild and hot. 😀
Note: The Chunky Salsa available at Trader Joe's is only $2.29. At least that is the price here at my local store in Southern California. That would increase this daily price by about $0.19 (this assumes you get 12 servings of salsa per jar).
Tip: When I don't have pre-made salsa on hand I'll chop up some fresh tomato and onion, mixing it with the avocado, cilantro and a squeeze of lime (I always have lemons and limes in the kitchen) for a fresh guacamole style salsa. You could make it even more authentic with some minced jalapeno and garlic (or garlic powder, but I always have fresh garlic) if you had it on hand. Or even fancier with the addition of freshly chopped mango.
Pricing Total
So altogether it comes out to a grand total of $1.39 per day for breakfast (and still less than $1.75 if you add salsa).
Adding Coffee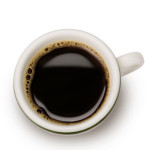 Add a cup of coffee and I'm all set. For those who are curious, I blend my coffee (yes, hot coffee) with coconut oil, coconut milk and a splash of vanilla extract (or pinch of vanilla powder). If I have a bar of dark chocolate lying around, then I'll break up a square and make a Paleo mocha.
It is almost a Bulletproof Coffee. I would need to replace the coconut oil with MCT, medium chain triglycerides, oil and add a couple tablespoons of raw grass-fed butter. However, I found I don't tolerate dairy well. You can see the full recipe for Bulletproof coffee here.
Adding Chicken Breakfast Sausage
+ Sausage (3) = $0.75 per day
$2.99 for a package of Chicken Breakfast Sausage (again, price is at my local Trader Joe's), there are 12 links per package (that's 3 links per day)
Lately I've been trying to avoid poultry and pork as the omega-3 to omega-6 ratio is pretty poor, close to 1:20. That's very high.
I've always thought that inflammation around my optic nerve is why I lost my vision in my right eye a few years ago. That's why I'm doing my best to limit my intake of omega-6 high foods, including poultry, pork, nuts and seeds. I've actually been able to avoid them entirely, except for my mistaking a Cornish Game Hen for a 'game bird' the other night. I learned that technically they are just a hybrid chicken. But my citrus zested rosemary and thyme Cornish Game Hen was delicious. 😉
Omega-6 fatty acids cause inflammation in the body. Omega-3 fatty acids help reduce inflammation in the body, so I am increasing my consumption of omega-3 high foods, like wild caught salmon. As wild caught salmon can get pricey (average price around here is $9.99 per pound) I've increased my daily intake of Krill Oil.
There you have it. A complete and filling breakfast that's quick to make and easy on the wallet. A Paleo lifestyle can get expensive, but there are great ways to make it more affordable. And this is just one example of eating Paleo on a budget.