Tax season is officially over and most of us will not be thinking about taxes again until the beginning of next year. Yet taxes are an important aspect to consider when making the move to fulltime in an RV (or whatever your method of choice).
Most of the country gets to sigh relief after filing their taxes. Well, maybe everyone except those who live in New York as it has the highest state income tax rate. According to a report by The Tax Foundation New York residents paid 12.8% of their income on both local and state taxes. It costs New Yorkers almost $2,000 per person!
(Hippies' Note: If you enjoy reading our articles, you'll love our newsletter. Receive updates directly to your inbox. Subscribe now!)
In the United States the vast majority of states do have a state income tax. Surprisingly though, not all states. There are 7 states that currently do not have a state income tax. (Unfortunately the Internal Revenue Service (IRS) will still collect taxes from you for the Federal Government.)
No State Income Tax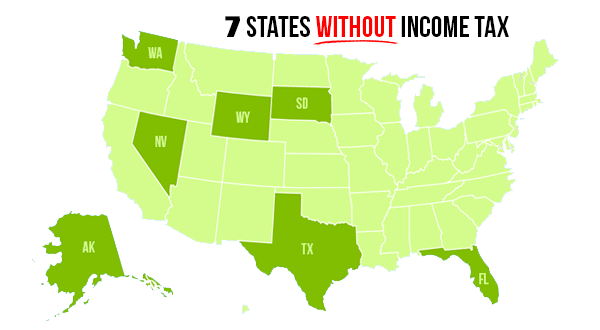 There are only 7 states without a state income tax; Alaska, Florida, Nevada, South Dakota, Texas, Washington, and Wyoming. Of these states without an income tax, some also do not have a statewide sales tax (Alaska).
Alaska and Wyoming, neither of which charge a personal income tax, actually had the first- and third-highest tax revenue per capita, respectively, in 2011. (USA Today)
Even though these states do not take state income tax that doesn't mean you'll pay less in overall taxes. You'll want to look at how that state funds projects. Take all the different taxes into consideration before making your decision to relocate or setup a residency.
Here are a few things to think about:
Property Taxes
Sales Taxes
Corporate Taxes
Fuel Taxes
Other Taxes
Fulltimers also need to be aware of how taxes affect residents and non-residents. For example, a person who moves to Oregon will love not having a sales tax. However, someone who chooses to fulltime probably won't *actually* live there. Remember you'll most likely be traveling around the country to other states. This usually makes states with no sales tax less important if you will be living somewhere else.
Tax Burden Ratings for States with No Income Tax
Thankfully I didn't have to manually compare the overall tax burdens of these states as the Tax Foundation already did. They are a "nonpartisan tax research group" helping American better understand the true size of their tax burdens. After comparing how much taxpayers pay in both state and local taxes combined the states were then ranked.
(Sidenote: This is not an exact science. Instead tax burdens are more of an estimate.)
The national average tax burden for Americans is 9.9%, including both state and local taxes. Here are how the seven states without income tax rank (1 is the lowest burden). Three of the seven states are in the top 5 lowest tax burdens.
| | | |
| --- | --- | --- |
| Alaska | #1 | 6.97% |
| Florida | #24 | 9.31% |
| Nevada | #9 | 8.24% |
| South Dakota | #2 | 7.58% |
| Texas | #6 | 7.93% |
| Washington | #23 | 9.29% |
| Wyoming | #5 | 7.77% |
Alaska
No State Individual Income Tax (9.4% corporate income tax)

No Statewide Sales Tax (some local cities do)
$1865 Property Tax, collections per capita
Alaska is a great state when taxes are concerned. There is no state income tax and no statewide sales tax, although there are local sales taxes in the more populated areas (including Juneau and Kodiak). However, the best part is that Alaska's tax burden is the lowest in the country at only 6.97% in 2010, compared to the national average of 9.9%.
Most of the funding for Alaska comes from oil and gas production royalties. In 2012 these royalties accounted for 83% of the state's revenue, while 9.4% came from corporate income taxes. Residents contributed less than 1/4 of all taxes collected in Alaska.
Florida
No State Individual Income Tax (5.5% corporate income tax, flat rate)
6% Sales Tax
$1507 Property Tax, collections per capita
Florida earns most (73% in 2011-2012) of their revenue from their 6% sales tax. This makes sense as the "Sunshine State" relies heavily on tourism for it's economy. Although Florida is right in the middle of all the states when tax burden is concerned (24th lowest) it is still below the national average at 9.31%, but only slightly.
Nevada
No State Individual Income Tax (0% corporate income tax)
6.85% Sales Tax and Excise Taxes
$1297 Property Tax
Nevada is most famous for Las Vegas, and with Las Vegas comes gambling and tourism. Both of these help make up the majority of Nevada's revenue with their 6.85% sales tax (71% in 2011-2012). In fact, only 56% of collected taxes came from residents.
In addition to bringing gamblers and tourists, Nevada is also a great place for corporations, especially start-ups, with their 0% corporate income tax. It's become quite popular for start-ups and high tech companies from California for this.
South Dakota
No State Individual Income Tax (0% corporate income tax)
4% Sales Tax
$1142 Property Tax, collections per capita
South Dakota offers iconic Mount Rushmore and a 0% corporate income tax. Their economy is funded by a more diverse system including the sales tax, fuel tax, and miscellaneous fees. South Dakota collects less taxes than all but two states and as a result spends less on government programs. It is also more indebted than most of the others.
Texas
No State Individual Income Tax (N/A corporate income tax, gross receipts tax)
6.25% Sales Tax
$1562 Property Tax, collections per capita
Texas is similar to South Dakota with a more comprehensive system to earn revenue, including their sales tax and motor vehicle sales' taxes. It also earns a little from motor vehicle sales, oil and natural gas taxes, and property taxes.
Washington

No State Individual Income Tax (N/A corporate income tax, gross receipts tax)
6.5% Sales Tax
$1257 Property Tax, collections per capita
Washington uses a simple tax system, the gross receipts tax, instead of having a corporate income tax. In addition to this tax on businesses funding also comes from a 6.5% sales tax, property taxes and more.
A
gross receipts tax
is a tax on the total gross revenues of a company, regardless of their source. (
Wikipedia
)
Although they are simple many economists believe the gross receipts tax system is poor tax policy. Of course if you do not intend in starting a business in Washington this should not pose a problem for you.
Wyoming
No State Individual Income Tax (0% corporate income tax)
4% Sales Tax
$2633 Property Tax, collections per capita
Wyoming is mostly funded by a 4% sales tax, property taxes, and taxes on the production of natural resources. It is a very large producer of energy and Wyoming also generated more income than any other state, except Alaska.
It is also one of only four states that doesn't collect any corporate income tax at all. According to the Tax Foundation, Wyoming is one of the most business-friendly states in the country.
Another fun fact about Wyoming is that they are one of just two states that earned more than 2/3 of their revenue from non-residents.
States with Taxes on Interest and Dividend Income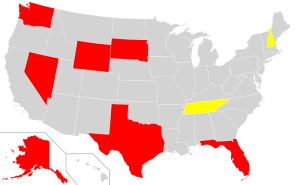 Although there are only seven states without a state income tax (in red), there are two additional states with minimal taxes on income (in yellow).Tennessee and New Hampshire have a more limited individual income tax.
Both states only tax dividend and/or interest income.
Tennessee taxes income from stocks and bonds at 6%. It does not tax interest.
New Hampshire taxes income from dividends and interest at 5%.
Conclusion: No State Income Taxes are Great!
Unfortunately we are currently living in California (for now) with one of the biggest tax burdens in the country at 11.23%, ranking #4. The individual income tax top rate is 13.3%, the corporate income tax is 8.84% (flat rate), and the sales tax is 7.5%.
Yes, we plan to choose another state for our residency once we hit the road. Currently we are setup with a mail forwarding service in South Dakota, but I think we will eventually switch to Texas choosing that for our residency. We still have more research to do before making our decision.
Which state are you using for your residency? Let us know in the comments below.
Sources:
Tax Foundation
USA Today