Easter is almost here. (FYI: It's this weekend actually.) In addition to the usual activities at home national chains are starting to offer something fun for the kids to do. And they are usually free! This year Trader Joe's and Bass Pro Shops have a fun lineup.
Since I could remember, every year I remember waking up to hunt for the basket the Easter Bunny left for me. It was always filled with goodies. Mostly chocolate and sweets, plus a little toy (or maybe a few). I have continued that tradition with our daughter Spirit, but I like to get out of the house too. When they are free things it makes me even happier!
(Hippies' Note: If you enjoy reading our articles, you'll love our newsletter. Receive updates directly to your inbox. Subscribe now!)
Easter Basket, Coloring Eggs and Egg Hunt at Home
Coloring eggs is always fun and I have some white eggs actually on hand this week, which is odd. I'll be using healthy ingredients to dye them naturally following this tutorial and this one. Then there's the basket.
I wanted to have a simple basket this year as we are now living in the RV, but didn't want to feel like I didn't do enough. To fill her basket, without costing a small fortune, I headed to the dollar section at my local Target store. (I love that section!)
I found a delightful little felt basket and some cookie cutters. Then added a few stickers, a doll, a couple coconut water juice boxes and individual packs of YumEarth Organics Gummy Bears (found at my local Sprouts Farmers Market for only $0.79 each). It's nothing overpowering for our small space and won't lead to a massive sugar rush. I'm thinking I should get a small organic chocolate bar as she adores dark chocolate, but haven't decided.
And of course we will be hiding little plastic eggs around the trailer. The Dollar Tree will be our place to buy them as they will not last long anyways. They will be filled with dried fruits (raisins and cranberries), stickers and small toys from the dollar store as well. (Tip: The Dollar Tree and dollar section of Target were my go-to places for stocking stuffers last Christmas too.)
Getting Out of the House
Here are a couple of the larger national chains that are offering FREE Easter activities for the kids.
(Check your local store for participation.)
Trader Joe's
Cost: Free
Date: March 30, 2013
Time: 8:00 am (arrive early!)
A simple plastic egg hunt will take place at most Trader Joe's around the country. Employees will be hiding eggs around the store for children to find. I believe they will be filled with healthy snacks from Trader Joe's.
In addition to enjoying the treats there are a few special 'golden' plastic eggs hidden around. The lucky kids who find those will be able to trade them in for a larger Easter basket, again filled with treats from the store.
Stores are usually separated into two sections to give the younger children a better chance. Their section will have eggs located on the lower shelves and on the floor. The older children will find them higher up on the shelves. And the wine area will be closed off to decrease dangers of running around wine bottles.
Bass Pro Shops
Cost: Free
Date: March 29, to March 31, 2013
Time: Various
Click Here for More Information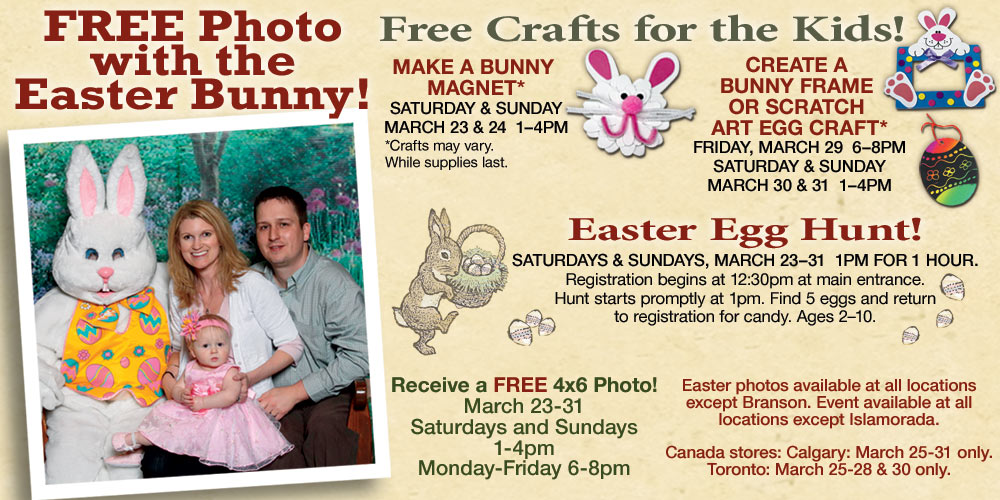 Easter Egg Hunt
Ages: 2 to 10
Both Saturday and Sunday at 1 pm there will be an Easter Egg Hunt for approximately 1 hour. Register at the main entrance to the store (begins at 12:30 pm). The idea here is simple. There are literally hundreds of plastic eggs hidden around the store. All your child needs to do is find 5 and return them to a cashier for candy.
Other Fun Easter Things to Do
Friday, March 29, 2013 from 6 to 8 pm
Saturday, March 30 and Sunday, March 31, 2013 from 1 to 4 pm
In addition to the egg hunt, Bass Pro Shops offers a free craft (bunny frame or scratch art egg) all weekend and you can get a FREE 4×6 photo with the Easter Bunny too.
(Again, check your local store for participation.)
Do you know of another major chain offering free Easter activities for the kids? Let us know in the comments below.