Energizing and simple, yet rich and creamy. The trending Bulletproof Coffee recipe is addictive! But addictive in a 'good' way.
Dave Asprey is the genius behind the discovery of creating this highly energizing drink that's grown a following. Simple ingredients are combined to create a higher performing coffee that can be enjoyed daily for a boost in energy that is said to last for up to 6 hours! (Without the typical crash of normal coffee.)
(Hippies' Note: If you enjoy reading our articles, you'll love our newsletter. Receive updates directly to your inbox. Subscribe now!)
I start the day with a cup of Bulletproof coffee. I learned about the power of butter at 18,000 feet elevation near Mt. Kailash in Tibet when I staggered into a guest house from the -10 degree weather and was literally rejuvenated by a creamy cup of yak butter tea. The biohacker in me asked, "why?" and that was the genesis of my recipe, which is widely heralded as a cognitive enhancing recipe. (Dave Asprey, Bulletproof Executive)
After figuring out 'why' the yak butter tea helped renew him, he had to recreate it at home. Using butter from grass-fed cows was more readily available. (Yak milk is hard to come by, lol.) Later, Dave even created his own brand of coffee beans (still need to try this) and MCT oil (cheaper on Amazon), which can be purchased from his website.
What is Bulletproof Coffee?
Three simple ingredients; 1) good coffee, 2) unsalted butter, and 3) MCT oil. That's it! Simple, huh? Well not so fast.
Remember when you are using just a few ingredients you want to use the highest quality you can for each individual ingredient. That means mold-free coffee, preferably 100% Arabica grown from a single source, and butter from grass-fed cows (or Yaks if you have them locally). MCT oil is six times stronger than coconut oil, but if you are out of MCT you can just use coconut oil. (I use coconut oil most of the time and I still feel the energy boost.)
Even though there are only three ingredients, here is the recipe for Bulletproof Coffee. It will help you get a general idea for the amounts to use for each ingredient.
Bulletproof Coffee Recipe
Turn your ordinary morning cup of joe into Bulletproof Coffee with only 2 high-energizing ingredients.
Ingredients
2 cups black coffee
2 T grass-fed, unsalted butter (_ie Kerry Gold_)
2 T MCT oil (_or coconut oil_)
Instructions
Blend all ingredients together in a high-powered blender. It's ready when there is a creamy, foamy top to the mixture.
Notes
Dave suggests building up to the 2 T of butter if you find it too rich. Start with a smaller amount and add a little more each day until you are up to the 2 T.
Dairy-Free: Just avoid the butter for a dairy-free version of Bulletproof Coffee.
http://thedigitalhippies.com/lifestyle/how-to-make-bulletproof-coffee/
Copyright © 2013 The Digital Hippies
Bulletproof Coffee Alternatives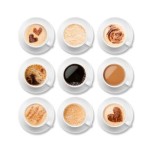 Although Bulletproof Coffee doesn't need anything added to it to taste great, here are a few variations to enjoy different flavors. Many will remind you of those (over-priced) indulgent coffee drinks found at Starbucks.
I always add a splash of coconut milk, or Coconut Cream from Trader Joe's (without shaking the can first), to all of the following variations for a creamier texture. This also adds more coconut oil, without increasing the 'oily' texture to the coffee.
Each variation will be added with the 3 main ingredients in the blender. Remember the coffee is mixed and ready to drink when you see the foamy top.
Vanilla Latte: Add a pinch of vanilla powder, or a splash of vanilla extract.
Chocolate Mocha: Break up a square of dark chocolate (at least 72% cacao) and add it into the blender. The hot coffee will help melt it to mix thoroughly.
Fall Flavor: Add a pinch of cinnamon or pumpkin pie spice for a flavor perfect for Autumn.
Have you tried Bulletproof Coffee yet?