Failure is not an option… Powerful words from a now famous sushi chef, Jiro Ono, thanks to visionary documentary film director David Gelb. Jiro flawlessly blends tradition with fresh fish to create mouthwatering simple sushi, served one piece at a time. Passionate in his craft the film displays the hidden beauty and art of sushi making.
The film was introduced to me by Branndon the other day when he listened to the Joe Rogan podcast, the one with Tim Ferris (The Joe Rogan Experience Podcast #320). When Japan was brought into the conversation Tim asked Joe if he had "seen Jiro Dreams of Sushi." Joe replied, "No, but I heard it was amazing. You are like the seventh person this week. I'm going to watch it tonight."
(Hippies' Note: If you enjoy reading our articles, you'll love our newsletter. Receive updates directly to your inbox. Subscribe now!)
Of course Branndon told me about it, as we both love sushi and documentaries. I was intrigued by a documentary (about making sushi no less) that could get so much attention. So I watched it on Netflix that night.
Jiro Dreams of Sushi
The title made me a little skeptical. Dreaming of sushi? Seriously? Well, actually yes. This sushi chef actually dreams of making sushi. Visions of sushi will sometimes wake Jiro up in the middle of the night. Intensely passionate he strives for perfection in his 10 seat sushi-only restaurant (located in a Tokyo subway station). By the way, Jiro is about 86 years old.
No. That was not a typo. Yes. Jiro is in his late eighties and continues to work long hours in his sushi restaurant (name?). Why? Because he loves to make sushi.
"While I'm making sushi I feel victorious," he explains in the film.
JIRO DREAMS OF SUSHI is the story of 85-year-old Jiro Ono, considered by many to be the world's greatest sushi chef. He is the proprietor of Sukiyabashi Jiro, a 10-seat, sushi-only restaurant inauspiciously located in a Tokyo subway station. Despite its humble appearances, it is the first restaurant of its kind to be awarded a prestigious three-star Michelin Guide rating, and sushi lovers from around the globe make repeated pilgrimage, calling months in advance and shelling out top dollar for a coveted seat at Jiro's sushi bar. (Official Website)
Inspirational and mouthwatering, this documentary film by David Gelb was thoughtful and well executed. The subtitles (fyi: the film is in Japanese) didn't even irritate me like some can. I love reading and they fit with the pace and nature of the film. Of course I couldn't wait to finish the movie and get some sushi though.
Jiro's sushi was mouthwatering. The time and care put into each little aspect of the sushi was… wow. It was precise and strict. Quality and routine were never overlooked.
From knowledgeable fish vendors to a certain rice vendor (who refused Hyatt hotel!) to hand swatting sheets of nori over a charcoal grill (not joking) to massaging octopuses for 45 minutes, (again, not joking) this film opened my eyes to the hidden work of making that delicious nigiri sushi.
The Art of Sushi Making
"The most important part of making sushi is this: Creating a union between the rice and fish. If they are not in complete harmony, the sushi won't taste good." Jiro Ono
With 75 years experience under his belt you might think Jiro is an expert sushi chef and I would agree with you (after watching this movie). However, Jiro probably would not. He continues working towards perfecting his skill of making sushi (and creating new sushi) to this day.
I loved when Jiro talked about improving yourself everyday. That he was getting closer to the top each day. Many would have said 'I'm there' with his level of success, but Jiro says we don't know how high the ceiling (or the top) really is.
A Traditional Japanese Structure
A structure to meals is somewhat commonplace, usually these are known as courses. The basic 3 course meal being an appetizer, the main dish, and finally a dessert. This gets pushed further with gourmet foods and formal dinners. It might be upwards of 8 courses with a chilled cup of sorbet to 'cleanse the palate' before the main dish.
In Japan the idea of there being a progression of flavors, from light to heavy, throughout the meal is commonly found in traditional Japanese cuisine. Yet it wasn't until recently that Jiro thought of bringing this idea to his craft as a shokunin.
Shokunin
an artisan or craftsman, a master of their profession
There is a plan to the meal. There is a specific order involved. It is not haphazard. Jiro enhances the dining experience with this special structure in his tasting menu.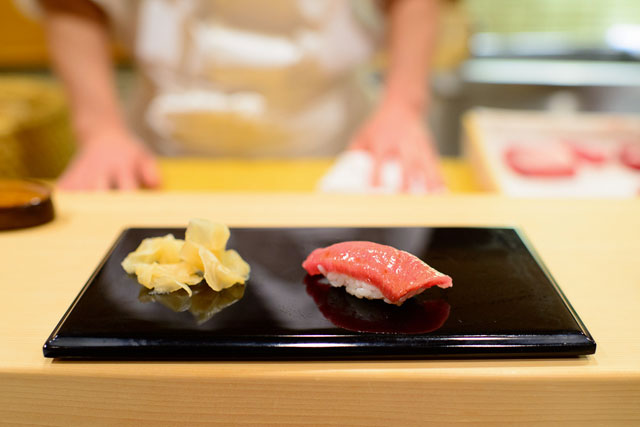 An example of Jiro's tasting menu begins with the more classic sushi offerings, like Tuna (Toro) and Halibut (Hirame) , then moves into the seasonal fish and fresh catches, like Striped Mackerel (Shimaaji) and Octopus (Tako) , and concludes with traditional sushi, like Salt-Water Eel (Anago) and Egg (Tamago).
"The temperature and freshness of the fish are crucial," says Yoshikazu Ono, Jiro's eldest son. He will eventually take over the restaurant when if Jiro retires. With this in mind Jiro only chooses the highest quality fish available at the Tsukiji fish market and creates the tasting menu each day.
Some fish will be cooked. Some fish will be raw. Combined with vinegared rice and soy sauce the fish completes the harmony. The flavors balance each other. Jiro is creating umami.
Umami (Japanese word)
a pleasant savory taste
Simple Ingredients Demand Quality
"Out of the hundreds of restaurants that I ate at…" Yamamoto (a food writer in Japan) says, "Jiro's was the best by far."
Food should taste good. Period. (I would think you agree.) Unfortunately today 'normal' food just isn't up to the standards of our grandparents time, especially in terms of quality (and nutrition).
The quality of food can turn a delicious meal into the best meal of your life.
Depending on whether the quality is 'normal' or high, the overall taste of a dish will reflect that. This is more pronounced in simple (read: few ingredients) dishes where low quality cannot be masked by the other flavors.
Jiro Dreams of Sushi highlights the simple elegance to Jiro's sushi making. All the normal ingredients are there; rice, wasabi, and fish. Then a brushing of… something (maybe rice wine vinegar?).
You might be thinking 'How really different can he be from my sushi chef down the street?' I would venture to guess… a lot.
"All of the sushi is simple. It's completely minimalist," Yamamoto explains. "Ultimate simplicity leads to purity."
So it's not really what ingredients he uses that is different from the normal other sushi restaurants. It's the *way* he makes it.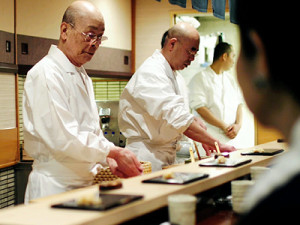 Jiro pays attention to details, even the smallest thing can impact the flavor. He started with the vendors. Each a specialist in a certain area, including a different vendor for tuna, shrimp and rice. This ensures the highest quality from vendors who care about the quality of their food. Then comes preparation before the customers arrive. (I didn't know there was so much prep work involved.) Marinating the fish, roasting the nori over hot embers or smoking a fish all are done before the restaurant opens. This is the behind the scenes stuff we don't get to see. And finally what we (the diners) see. Precision knife skills are mandatory when thinly slicing fish and a soft, firm hand when molding the rice.
With Jiro, he doesn't take short cuts. If a customer orders shrimp, then a shrimp is boiled right then. It's not preboiled in batches in advance and refrigerated. It takes more time, but it tastes better.
It's the little details in every step that makes me want to visit his restaurant when we go to Japan (someday).
Watch Jiro Dreams of Sushi today at Netflix.
Jiro Dreams of Sushi
Release Date: 2011 (initial release), DVD Release Date: July 24, 2012
Director: David Gelb
Cast: Jiro Ono, Yoshikazu Ono, Takashi Ono, Masuhiro Yamamoto, Hachiro Mizutani
Running time: 83 minutes