On Monday, we picked up our new home, and towed it up a winding mountain road to Running Springs, CA. The first night we couldn't sleep in it because the bed wasn't in yet, but the Tuesday night we slept in it! It's great. We (Brianne mainly) are still getting it set up. Lots of scrubbing, cleaning, shampooing of carpets, and repairs to be done. I don't get home until about 6:30 at night, so I can't do much during the week.
The sun comes up at 5:30 or so, and it gets bright early. I've been up at about 6:30 twice this week, but it feels nice to wake up early. Birds chirping, cool crisp air, and being in an RV is just awesome! It does get warm/hot during the day, so one of my first tasks will be to get the air conditioner blowing colder. I found good information on how to do that here.
(Hippies' Note: If you enjoy reading our articles, you'll love our newsletter. Receive updates directly to your inbox. Subscribe now!)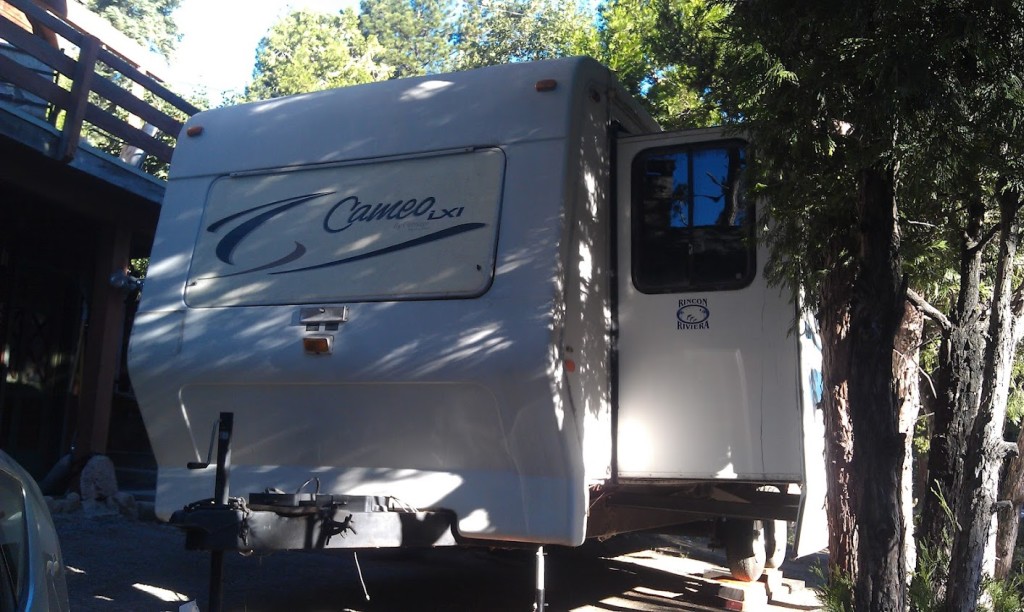 We haven't cooked in the trailer yet, or showered. Luckily we are staying at a family members house and we can do that inside. We need to clean and get more set up before we do those things in our own home. Our cats and dog are doing great too, they seem to like the new place. Overall I'm very satisfied with the choice of moving into a travel trailer.