Well it's been a long time coming, but today we pulled the trigger and bought an RV! It's a 2001 Carriage Cameo 29FKS travel trailer.
It's everything we wanted really! It's the brand we would have picked if we could pick any one we wanted to, it's the exact length we wanted. It has a SUPER SLIDE on the back side which adds a lot of room to the living room area. It's a travel trailer, which we wanted for a few reasons, mainly we didn't want a pick up truck, rather we want a suburban.
(Hippies' Note: If you enjoy reading our articles, you'll love our newsletter. Receive updates directly to your inbox. Subscribe now!)
It needs a fair amount of work, inside, and out. It doesn't look like it from the photos, but there are small dents everywhere, things missing (Batteries, and propane tanks), and other things.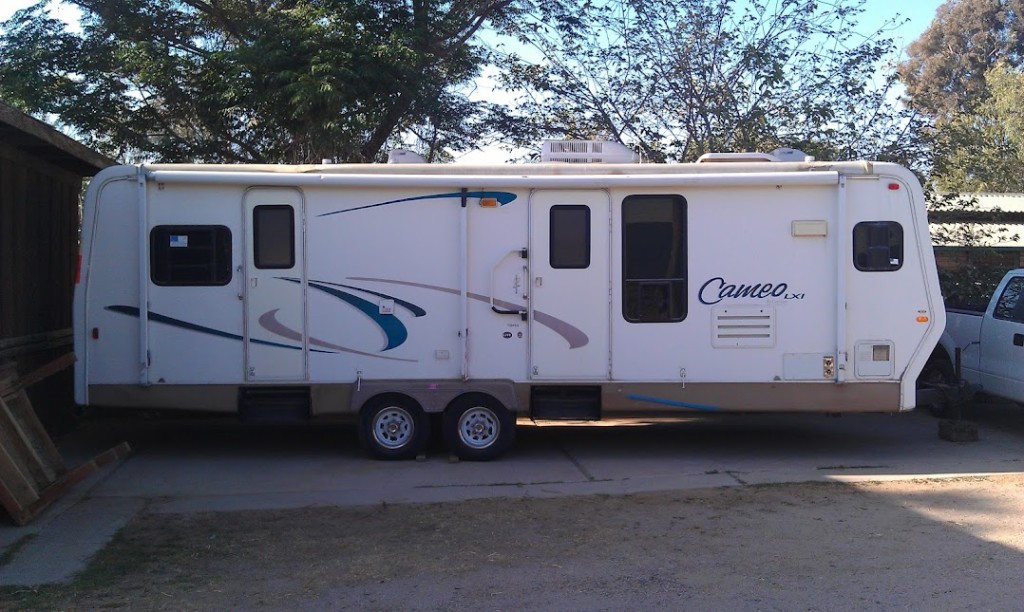 We got it for a steal though. One of these in very nice condition can go for $12,000-15,000, and we only paid $4,000. That is about 2 1/2 months of rent that we were paying for our apartment! Think of all the money we'll be pocketing now not having that rent payment.
For the first few months, we will be parking it at a family's house. We are going to live in it still, clean it up, fix things, and learn how to live in an RV. After the summer, it really only depends on our income. I have a job paying more than enough to travel on now, but what we need to begin traveling is around $1,500 a month from remote work. With this amount, we can move about once or twice a month to another camp site. We can literally travel the country  on a small budget.
I know this is probably a shock to many of you that know us, but everyone we've told this to is super excited for us. It's an opportunity most people don't take until they retire, and almost every single one of them says they wish they did it sooner. We are adventurers, and look forward to the unknown.
For me this trip is about leaving the rat race that is "the american dream". Working 40+ hours at a job away from your family, only to be in debt and a slave to your work. If you want to take a month off and travel, you can't, if you lose your job, your family suffers, etc etc… For at least 10 years now I've wanted to work for myself, make my own hours, and set my own financial worth. I don't like feeling that my time here on earth is only worth $15 an hour. I want to say what I'm worth, not someone else.
This is why I got in to Web Development, it is something I love doing, and it pays well. Also I can do it from ANYWHERE in the world, so long as I have an internet connection. Every single client I've had has been satisfied, and many come back to me for more work. My only problem with this is marketing. This is another matter though.
We have our feet in many different money making ventures online, the newest will be a 4×4 related mobile I'm launching next month. I'll sell it for $1.99 initially, and if it sells well, possibly raise the price to $2.99. This should be able to finance our trip if it launches like I hope it does.
Anyway to wrap this up, we WILL travel, and soon. Thanks for everyone who believes in us, please check back once a week or so to see what we're up to next. We won't actually move in to the trailer until June 25th, so maybe check back early July to see what has happened.
If you'd like to follow along with our journey, do so at the top right corner of this page under "Follow Our Trails". It will only be content related to us and our trip. Thanks for reading.