When deciding to live in an RV and travel the country, many things rush through your head. One of the most important (and sometimes forgotten) questions you need to ask is '
how will we get our mail?
' In the end we chose the mail forwarding service
Alternative Resources
to meet our needs.
Mail Forwarding Services help when you are taking a longer than normal vacation or are permanently on the move. They help to keep you organized and receive your mail, including those important bills.
(Hippies' Note: If you enjoy reading our articles, you'll love our newsletter. Receive updates directly to your inbox. Subscribe now!)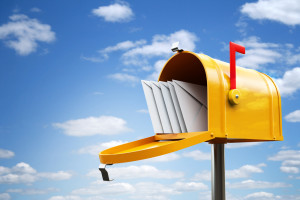 There is a simple answer to this question: use a mail forwarding service. When it comes to the different services available for RVers there are two or three main mail forwarding services that I found during my research.
Alternative Resources, and the Escapees RV club both cater to RV fulltimers. These were the two I focused my research on before deciding upon Alternative Resources.
Alternative Resources
The two main reasons we chose Alternative Resources was their central location and level of customer service.
Location: South Dakota
Alternative Resources is located in South Dakota. Now for strictly mail forwarding you might think that you want a mail forwarding service located close to where you'll be traveling the most. This makes the most sense, because it would allow you to get your mail faster. So why did I pick a company several states away from me when I currently live in California?
The following snippet of text from the Alternative Resources website should explain it well enough.
The Full Time travelers have a much greater need. Not only do they need their mail taken care of, but they also need to establish a "permanent residence" for a drivers license, vehicles, passports, etc. This is why South Dakota and Alternative Resources has become the best State and company to establish a "new legal residence".

| | |
| --- | --- |
| * No State Income Tax* No Personal Property Tax* 3% Excise Tax on net Purchase of Vehicles, RV's* Ranks 47th in Lowest private Passenger | * No State Inheritance Tax* No Intangible Tax on Investments* Low Vehicle License Fees* No Vehicle Inspections |

* South Dakota per capita taxes lowest in Nation (Sioux Falls Argus Leader 7/27/01)

Source: alternativeresources.net
What does this mean for the average fulltimer? Well it means a great savings in cost! You cannot only setup mail forwarding through Alternative Resources, but also use them to setup a permanent residence in South Dakota without ever having to physically go there.
When we do leave this great state of California, and begin our nomadic lifestyle, we will (probably) register our state of residence in South Dakota for the above mentioned reasons. This will save us a great deal of money.
High Quality Customer Service
I called Alternative Resources about 5 times during the setup process. Every time I mumbled out of confusion, asked the wrong questions, and showed just how green I was to the whole fulltime RVing thing they responded to me friendly and polite; just as though I was a member of their family. I actually spoke with one of the owners, Paul, to complete my sign up. He couldn't have been nicer.
Paul walked me through filling out the form, step by step. Can you imagine a company doing this‽ How many times has Paul gone through this form, and how does he continue doing it with a smile? I don't know, but he does.
He told me just what to write in every box, worked with me on some financial issues, and even explained how to change where I want the mail forwarded to. Paul didn't have to provide this level of service. He could have easily just said 'fill out the form and mail it in'.
Watch Paul Talk About Alternative Resources
Here is a video from Paul himself which you can also find on their website.
One of our neighbors at Glen Ivy RV Park, in Corona, CA also used Alternative Resources for his domicile. When I asked him why, he simply said that when he called in a real person answered the phone!
A nice, personal touch was the inclusion of a photo and note from the person who packed our mail. Below you'll see two sample cards.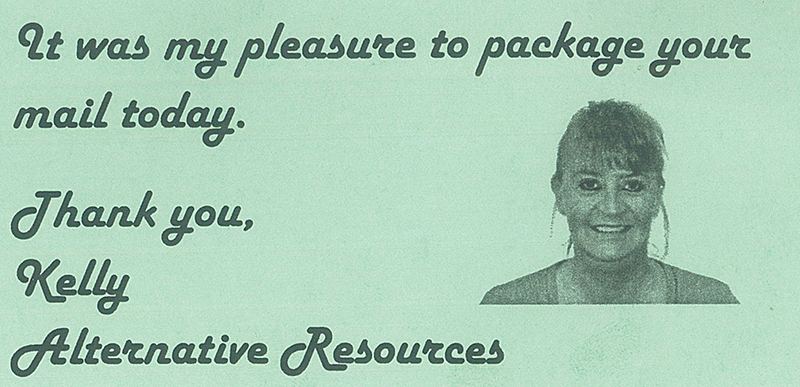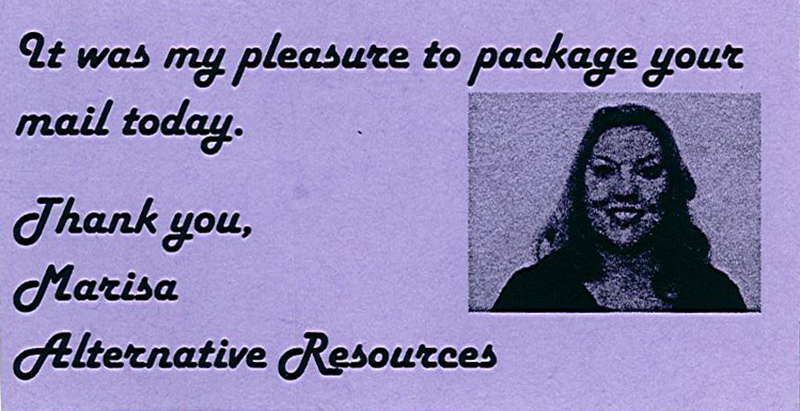 Flexible Billing
Initially they wanted a larger deposit than I could afford at the time. They were very flexible and willing to work within my budget. Besides that, they also include a great statement of your account monthly. Below you'll find a sample of our statement of account for March 2013.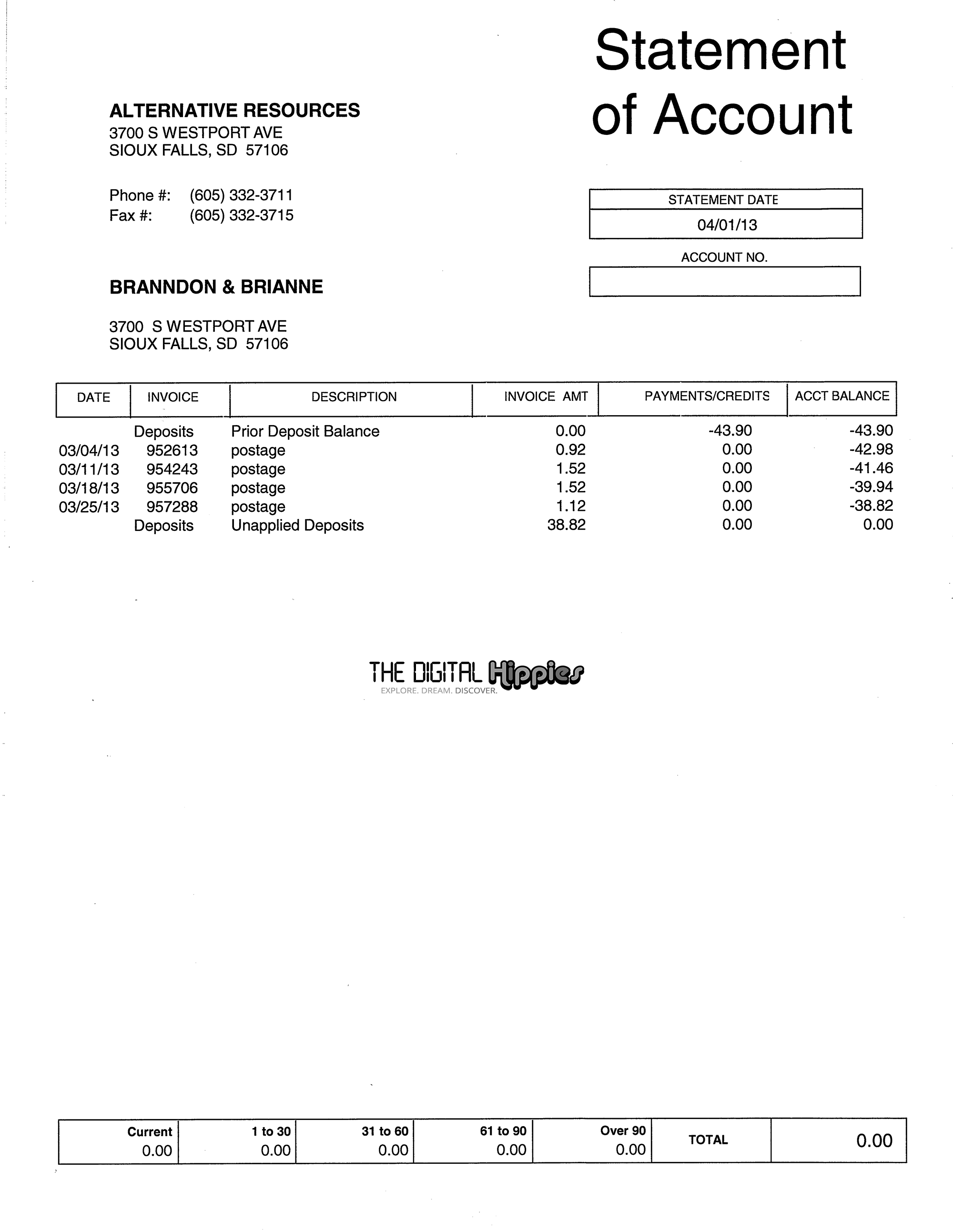 As you can see, it doesn't cost much at all on a weekly basis to receive your mail – no matter where you're living. I'm halfway across the country from Alternative Resources, and it costs me about $5 per month in postage to have my mail forwarded. Of course there is the initial set up fee of $216 to have mail forwarded on a weekly basis. They also offer other mail frequencies too, which you can see below:
Mailbox Services:
Forward Your Mail Weekly, $216.00 Annual Fee
Forward Your Mail Twice a Month, $192.00 Annual Fee
Forward Your Mail Once a Month, $168.00 Annual Fee
Forward Mail On Demand, $240 Annual Fee
Set Up Fee is $10.00 ~ Plus, a Postage Deposit $100.00
(Annual Fees are Non-Refundable and Subject to Change)
(Annual Fees are Renewed Automatically, Unless notified the previous month not to)
Alternative Resources offers an email service too, although myself, I can't see why someone would pay for an email at $24 per year, when http://gmail.com is 100% free.
Email Services:
$2.00 per Month per Email Address, Billed Annually
Example: [email protected]
The Process
I won't get in to too much detail about the process here. The reason I'm keeping this brief is you don't really need to research/learn this portion too much. Just give them a call at (800) 477-2664 and they will walk you through each step right there over the phone.
A second resource to get to know the procedures involved in signing up for their services can be found at http://www.alternativeresources.net/Getting-Started.html
Lastly, if you want to see the paperwork that you'll be filling out, you can see their PDF from January 2013 by clicking here.
Do you use a mail forwarding service? Let us know which one in the comments below.