On a recent trip to RA Sushi, the location within the Dos Lagos Shopping Center, we discovered a quaint (read: hidden) ice cream shop that features natural and organic ingredients. No large sign above it, just a small banner on the front door reading 'Christopher Michael Ice Cream.'
As much as I love ice cream I wanted to go there for dinner, not dessert. However, I usually avoid dairy products as I'm unsure if my body tolerates it well or not. On this trip we decided not to indulge. Yet after our all you can eat sushi from Sushi Zen I wanted to stop and try it on the way home. It was a special day after all, our 8th wedding anniversary.
(Hippies' Note: If you enjoy reading our articles, you'll love our newsletter. Receive updates directly to your inbox. Subscribe now!)
Christopher Michael Ice Cream
Located on the northern side of the Dos Lagos shopping center, directly across from Taps Fish House & Brewery, is a small artisanal ice cream shop by chocolatier Christopher Michael. It's easy to miss without a banner or sign.
All Natural Ice Cream
Artisanal Ice Cream made in small batches with organic dairy and all natural  ingredients by Christopher Michael Chocolates. Also, shakes, sundaes, and waffle sandwiches. (via SquareUp.com)
Already well known in Newport Beach for decadent chocolates, Christopher Michael uses techniques that feature exquisite, although slightly unusual, flavors. In addition to the more normal ice cream flavors of vanilla, strawberry, and chocolate, there are several flavors you'll want to sample.
The more surprising flavor combinations included Strawberry Balsamic, Grey Salt caramel, Nutella, Lavender Honey, Toasted Banana, and Chipotle Chocolate.
Our Experience at Christopher Michael Ice Cream
Personally I tried several flavors before deciding on my favorite, classic Chocolate Chip. I loved each sample, but wanted a simple vanilla with chocolate. I knew it would be good as Christopher Michael uses his own artisanal chocolates when making it. It reminded me of Haagen Daas in its simplicity and high quality ingredients. (Spirit loved sharing it with mommy!)
Something you'll notice that separates Christopher Michael Ice Cream from the rest is the use of real spoons. A normal metal spoon to taste these delicious combinations. Not wanting to make them do extra dishes Branndon, Spirit and I shared each sample. Actually I tasted a small bite and then Spirit took bigger (and bigger) bites, so Branndon didn't get much. He even needed to get his own sample of Strawberry Balsamic after she started clearing the spoon completely. (She really enjoyed herself with sushi and ice cream that day.)
The Strawberry Balsamic was better than I imagined. I was sure Branndon and Spirit would like it. They both love strawberries and balsamic vinegar, even drinking leftover dressing from their salads!
It's a flavor I've been planning for years to make for Branndon, ever since Emeril Lagasse featured a Mascarpone Gelato with Balsamic-Macerated Strawberries on an episode of Emeril Live, but never got around to it. I found that the balsamic balanced the sweetness of the strawberries nicely. I was afraid the vinegar would be overpowering and ruin my palette, but it was surprisingly mild. Definitely an interesting combination to think about trying when you visit.
I recently learned I don't do well with nuts and skipped the Nutella, but Spirit loved it. (She got her own sample.) Naturally she loved every sample of ice cream and it's easy to understand why. It was all delicious.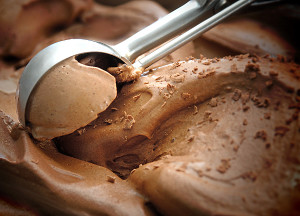 I'm not a huge fan of hotter spices, like cinnamon or Chipotle, in sweet foods or desserts. Cinnamon rolls were the closest I'd get before we switched to a more Paleo inspired diet. This made me pass on sampling the Chipotle Chocolate. However, I was surprised when Branndon passed on a sample. (He was too full after all you can eat sushi at Sushi Zen.)
The next time we go (my mouth is already watering) I hope he gets to try it and we will be using the 20% off coupon mentioned at Square Up.
Barbara (very helpful employee) recommended her favorite, the Grey Salt Caramel, and it was richly caramel flavored with just enough grey Salt to enhance the caramel. It was not an overpowering salt flavor. The salt was used in a way similarly found with artisanal chocolates, just a hint.
I enjoyed the Lavender Honey, but the honey was too overpowering for me. I'm not a huge honey lover. Again Branndon and Spirit are the honey lovers in our home. Spirit is always cleaning off the honey spoon when I use it in cooking or when Branndon wants to add it to a banana for a sweet treat.
I decided against the Mint Chocolate Chip as it tastes of fresh mint, not the mint flavor you'd normally associate with this ice cream flavor. Barbara informed me Christopher actually steeps fresh (homegrown) mint leaves when making his small batches of the flavor. Although I love fresh mint and fresh mint tea, this wasn't a flavor I could enjoy an entire scoop of.
Ice Cream Prices
Get 20% Off First Purchase
Rewarded at the register. (I'm assuming you mention this as there was nothing to print.)
Get 10% Off After 10 Visits
Receive a punch each time you spend $5 or more
When I think of any product that offers higher quality ingredients I always expect a higher price tag. It depends entirely on that item whether the additional price is worth it or not, but I was surprised at the somewhat lower prices for this ice cream. At least the single scoop for under $3 was worth it, plenty of ice cream for me with a few bites to share with Spirit.
Single Scoop: $2.95 | Single Scoop Sundae: $4.45
Double Scoop: $3.95 | Double Scoop Sundae: $5.45
Triple Scoop: $4.95 | Triple Scoop Sundae: $6.45
Pint: $8.50
Shake: $5.95
Specialty Sundaes: Brownie ($5.95), Banana Waffle ($6.95), Strawberry Waffle ($6.95)
I wanted to compare their prices to Baskin Robbins (BR) and after calling 5 stores for the price of an ice cream scoop I finally had someone answer the phone. At that location a single scoop of ice cream is $2.69 and a single scoop sundae is $3.39. (Prices may vary at your local store.)
You can see that a single scoop from Christopher Michael Ice Cream is not overly expensive, only 30 cents more than a scoop at Baskin Robbins! However a sundae will cost you a couple more dollars. From my experience the ice cream scoop was larger than the scoop at BR. And the last time I remember going to a BR it seemed smaller than before, but that could have been the scooper.
Not Just Ice Cream!
Even though this is an ice cream shop it also offers several Christopher Michael chocolate truffles and bars, including the Sizzling Bacon bar (featuring Pop Rocks?!). I was a little bummed when 'soy lecithin' was found in the ingredients' list. We avoid soy whenever possible and this was a rare day where we did consume some, Branndon at sushi and the chocolate shavings in my scoop of ice cream.
In addition to ice cream you'll find a variety of specialty chocolate bars, truffles and other treats made by Christopher Michael.
Chocolate Bars: Aztec Spiced Bar, Grey Salt Bar, Cacao Nib Bar, Macadamia Nut Bar, Sizzling Bacon Bar
Confections: Marshmallow, Chocolate Corn Flakes
Sandwiches: Ham, Cheese, Nutella, PB& J, Prosciutto, Turkey
You'll also find other goodies like boxed chocolates, truffles, brownies, drinking chocolate (aka hot cocoa or hot chocolate), waffles and much more!
Conclusion: Yummy!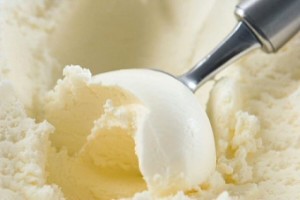 I love supporting local businesses and smaller businesses. I'll often seek them out to avoid the larger chain restaurants that seem to be taking over this country. After my experience at Christopher Michael Ice Cream, both the taste of the ice cream and the friendliness of Barbara, I will definitely be going back.
It's only $2.95 a scoop and a scoop is all I'd want. Maybe sometimes I'll bring a pint home, but that would be dangerous. It would probably be gone in a single sitting and I'd have a stomach ache.
Have you tried Christopher Michael Ice Cream? If so, let us know which flavor you enjoyed in the comments below.
Christopher Michael Ice Cream
(Dos Lagos Shopping Center, D-175)
2785 Cabot Drive
Corona, California 92883
View Map | Driving Directions 951-277-0003
Website
Hours
Monday to Saturday: 10 am to 8 pm
Sunday: 11 am to 6 pm