Review Overview
Staff Knowledge & Competence
Facilities (Laundry & Restrooms)
Nice place for a great price!
Summary : Pros: Cheap, Friendly, Located near ActivitiesCons: No Wifi, no 50 amp, run down in areas, staff competence
Glen Ivy RV Park, Corona, CA [Review]
---
Location Information
Website: http://glenivyrvpark.com
Address: 24601 Glen Ivy Road Corona, Ca 92883
Phone: (951) 277-4261 OR (800) 628-9044
Rates: $450 / Month + $30 per dog
Fulltimer Friendly: Yes, see Buying "Shares" at Glen Ivy RV Park below.
---
This review will be a little different than the rest since we have lived here in the park for a few months now. Usually I'll start a review when we move in, keep updating it throughout our stay, and wrap it up when we move out.
(Hippies' Note: If you enjoy reading our articles, you'll love our newsletter. Receive updates directly to your inbox. Subscribe now!)
Review of Glen Ivy RV Park
When we first moved it, it was both out of necessity and desire. The RV park isn't high class at all, but it's clean, and the staff is uber friendly. The residents are all super friendly too! As with any place with rent for less than $500 a month, there are a few people you might not want to walk past in the dark of night, but that is just me being insecure. Everyone I've spoken to has been friendly.
They have 2 laundry machines at every bathroom area. There are showers which looked clean, but we haven't used them yet. Water, and electric are included. Internet is limited if you plan on being here long term, the only service I believe they offer is AT&T. I don't want to use AT&T internet because they impose a monthly bandwidth cap, and if you don't sign a 12 month contract, it's like $53 for average quality internet… Don't even get me started on the monopoly that is internet service here in the USA…
Buying "Shares" at Glen Ivy RV Park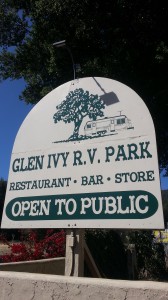 Rent for month to month visitors is $450, which includes electricity and water. If you have a dog, it's $30 extra per dog. I just called the office to ask the limit of time that you can stay in one spot if you don't own shares, and the answer was basically "
you can stay as long as you want until a share owner wants that spot
".
What this means is that you can usually stay a very long time without moving. I saw someone here for a few months recently who was just passing thought, and stayed in one spot.
The advantages of owning a share is rent and pet rent! Each share you own means you only pay $125 for water/electric and $65 per share. When we moved in to Glen Ivy late October, we made a very good decision to buy one share. Each share is good for 81 days per calendar year. This means that since we moved in with less than 81 days remaining in 2012, we only paid $190 for rent in the months of November, December, January, February, and part of March! This was due to the 81 days resetting at new years. We purchased our initial share for $500.
$500 + ($190 x 4) = $1,260 total payed for 4.5 months.
$1,260 / 4.5 = $280 per month. This is including a dog.
At the end of March, we purchased two more shares for only $200 each. Any share below $500 is a good price, we lucked out with our 2 shares. We could probably turn a profit on these when we decide to sell them.
Each share costs $65 per month, regardless if you're using its's days or not… If you own a share, you pay $65 per month per share. We sold off our first share as soon as it's days were up. If we had kept it until next year, we would have paid $65 per month for 9 months. This means it would have cost us $585 just to hold on to that share. It's cheaper to sell it, and buy a new one when needed.
If you're not sure how long you'll be here, or even if you plan on being here for years, buying shares one at a time is smarter. This way you aren't paying $65 per month on 5 shares.
There are other perks to owning shares, such as a private pool for members, a storage locker, and some other things, but we never use those things. Maybe this summer we'll review the pools and post back. For now, here is an image of the pool area (click the image to enlarge it).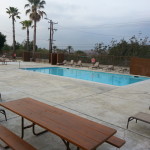 The Staff
The staff is all amazingly friendly, and welcoming. Each one makes me smile when I see them. However, the most friendly staff can't always make up for a poorly ran business. There are frequent stories of the office trying to make someone pay twice, because the office can't find a record of payment. Always save your receipts. I have had a few issues myself, such as the mailbox fiasco.
They have tried to have me pay $450 over my standard bill before because the lady working the computer didn't know that the $450 should have came off automatically.
Personal Experiences at Glen Ivy RV Park
January 4, 2013
We have been here just over 2 months. Our neighbors are nice, one of them actually helped me fix my brakes on the Prius one day when I mucked up the job myself. The office staff knows my name, and I know theirs, and I'm always greeted with a smile. We purchased a "share" so we are part owners now. This allows us 81 days per year rent free. There are still other fees, but it all evens out to the $500 range monthly. The advantage here is that you can leave your RV in one spot, and not move it. There are other perks, but the discounted rate, and long term spot made it a good choice for us.
January 20, 2013
Still enjoying it here! I must say again though that the office clerical staff has a hard time keeping track of things and getting things done here. There are a few examples that stand out in my mind right now. First, we bought a "share"back in early november, shortly after we moved in. This share gives us rent for $190 per month (no dog rent) rather than $450 (+ $30 for our dog). So after the share was transfered legaly into our name, it took the office about a month to get it entered in to their system. That means that my rent for December had to come in late, since I wasn't in the system yet.
The Mailbox Fiasco
I also asked for a mailbox back in November, then a few times in December, then a couple times in January, until I finally had the office lady (name withheld because I don't want anyone to lose their job over my reviews) get me a mailbox. She went and grabbed me a key from the back for a mailbox. It was the larger mailbox which runs $8 per month instead of the standard size at $4 per month. Then, not a week later, I had a small envelope arrive for me, and the office staff called me to let me know. I asked them to just put it in my mailbox, but they didn't know I had one and couldn't find the record. I explained what had happened, and they put it in my box.
March 19, 2013
Glen Ivy RV Park recently installed a new playground / swing set combo. It's pretty neat, and Spirit loves it! Also they have introduced Bingo night which they are promoting vigorously. They have 3-4 billboards on the main street leading up to the park, signs in the park, and handed out fliers at the gate.
Glen Ivy RV Park has also hired a few new staff members, which I hope helps with fix the current clerical errors. I spoke with a gentleman who has lived here for over 5 years! He had 10 shares in the park, and is selling them all (we bought 2 of them). He cites his main reason for moving out of the park being the staff in the office. The park has gone downhill since the new owner John has stepped in. I haven't had a chance to speak with John, and I'm fairly new here, so I can not comment on the changes.
We purchased two more shares, which gives us through the end of August. Our rent here is now $238 per month for three shares, plus a large mail box ($8 per month).
I've become less content with the people here though. I've had some encounters with a few drug addicts looking for their fix, or asking if they could wash my trailer (?!?! Really?). There is someone right near us who has been using a power saw between the hours of 9 pm and 10 pm the last few nights. I have no problem with people who use drugs (personal freedoms), but I do have a problem with my life being disrupted by their drug habits. Being confronted by a lady looking for "Bob" the other day was pretty nerve racking. The conversation went something like this:
Her: Are you Bob?
Me: No.
Her: You're not Bob?
Me: Nope. Sorry.
Her: Do you know where Bob is?
Me: I don't know Bob.
Her: You don't? Is your dogs name Max?
Me: No.
Her: What's your dogs name?
Me: It's not Max.
Her: What is it though?
Me: Not Max.
Her: Why won't you tell me your dogs name?
Me: We just moved in, and I've heard stories of a lot of bad things going on around here, and we're not quite comfortable with people knowing our dogs name yet.
Her: Oh, Ok…
Then she proceeded to go look for Bob. This may not seem like a weird conversation, but she wasn't in a sound state of mind, she was fidgety and not quite calm.
The price here is great, it's about 25 miles from my job, and 30-40 minutes from Orange County. Last weekend we went to the beach for a quick day trip. So far, I'd come back for sure for a shorter stay, but long term, I'd be weary. I'd have to make sure we got a spot with great neighbors (as we have now, and I'll release our spot number once we move out).
April 19, 2013
They have been updating many things around the park, and even the street leading up to the park. They have re-slurried the pavement, meaning putting a fresh black layer on top. This really made things look nicer, and the streets smoother!
Note: There are rumors of them getting quotes to install wifi at all campsites. The fee for this should be $15 per month. This would be awesome if it came true, as now the only internet provider is AT&T and AT&T sucks. This doesn't appear to be coming any time soon. They would have to install towers throughout the park, and from what I've heard, they won't do that right away. For now you must BYOI (Bring Your Own Internet) it seems. They used to have AT&T listed as a service you could get wired to your campsite, but they recently took it off the list. I'm not sure if it's still available.