Lil' Taco Shack at Glen Ivy RV Park
Located in the back corner of the Glen Ivy RV Park, near the swimming pools and Poison Ivy Bar, is an unassuming door that leads to the Lil' Taco Shack. Both the restaurant and full service bar are open to the public. The Taco Shack is the restaurant onsite and is open to all ages, while the bar is obviously restricted to adults ages 21 and older.
The Lil' Taco Shack is run by Al and Alicia, a friendly husband and wife team. From our personal experience this means service tends to run a little slower than you may like, especially for Taco Night, as there are only two employees. You may wish to go a little earlier than planned or expect a wait when you get there. The parking lot can be an indicator; expect a longer wait if it's full. If you are staying at the park, then call your order in. Our pickup order was ready in less than 10 minutes!
(Hippies' Note: If you enjoy reading our articles, you'll love our newsletter. Receive updates directly to your inbox. Subscribe now!)
Although they serve mostly Mexican food there are also some American dishes available as well, like the Bacon Cheeseburger on the lunch menu. More common Mexican foods that you'll find are tacos, quesadillas, taquitos, and even a twist on the Tres Leches Cake (Mocha 3's Leches Cake).
One of the best parts is EVERYTHING on the menu is $10 or less! Actually there is only one item that is $10 and that's the Shack Platter. It's a sampling of different appetizers including taquitos, jalapenos rellenos, quesadilla strips, and tortilla chips with a spicy bean dip. It is also served with fresh quacamole, sour cream and salsa.
Taco Night is Every Night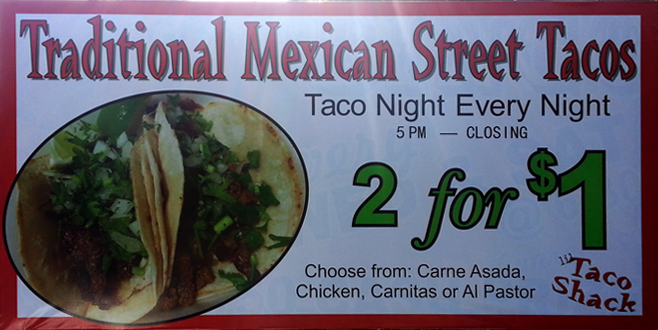 Every night at the Lil' Taco Shack (open to the public) is Taco Night! From 5 pm to closing you'll be able to purchase traditional Mexican Street tacos, 2 tacos for only $1. Choose from Carne Asada (beef), Chicken, Carnitas (pork) or Al Pastor (see below).
Days: Everyday
Time: 5 pm to Closing
Price: $1 for 2 tacos
Even if you are not staying at the Glen Ivy RV Park you are welcome to stop by the Taco Shack, it's open to the public.
What are Mexican Street Tacos?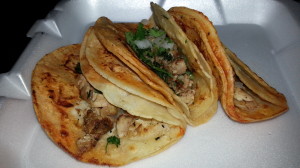 Street tacos are handheld tacos that contain only a few simple ingredients; corn tortillas, meat, chopped onion and cilantro. Although surprisingly simple, don't be surprised when they don't always taste the same.
Years ago, before we went Paleo, my favorite type of taco was the Mexican Street Taco. I'd choose either carnitas or chicken, add a squeeze of lime, and perhaps a little Tapitio hot sauce. However, the only place I had found where they were any good was a little Mexican market/restaurant in San Clemente called La Tiendita.
At the time we were living in Orange County and that meant a 30-45 minute drive just for tacos! (I love you Branndon for going with me so many times.)
Recently I did 'cheat' on Paleo to try these tacos from Lil' Taco Shack and they were delicious. Just like I remembered; 2 small corn tortillas, chunks of juicy marinated chicken, chopped onion, and chopped cilantro. I added a squeeze of lime and wished I didn't add the Tapitio. I added too much and my mouth was burning the whole time I ate them.
However, these street tacos are generally small. You may need more than you think to feel full.
If you aren't in the area and want to try these for yourself, then you'll want to head to a Latino neighborhood near you. There are often street cart vendors (often with tamales as well) or taco trucks. Or if you want to make them at home yourself there's a great article on Men's Health, "Real Tacos, Real Fast."
What is 'Al Pastor'?
Al pastor tacos are basically the Mexican version of gyros. The chuck of meat, commonly pork, is traditionally spit-grilled and then sliced.
Weekend Breakfast Special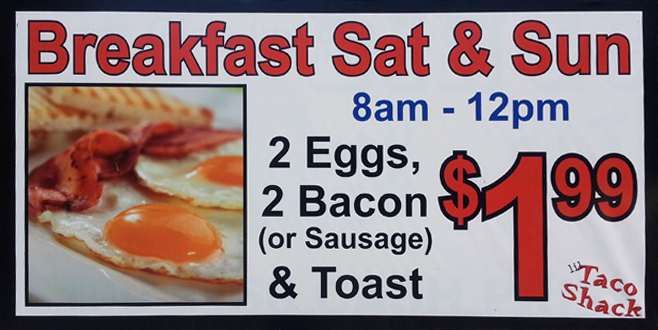 Every weekend, both Saturdays and Sundays, the Lil' Taco Shack offers a breakfast special between 8 am and Noon. For the low price of $1.99 you'll be able to buy yourself a breakfast of two eggs, two bacon (or sausage), and toast.
Days: Saturdays and Sundays
Time: 8 am to Noon
Price: $1.99
Even if you are not staying at the Glen Ivy RV Park you are welcome to stop by the Taco Shack, it's open to the public.
Texas Hold'em Poker Night
Every Tuesday night at the Lil' Taco Shack is Poker Night! Starting at 7 pm both beginners and professionals are welcome to play Texas Hold'em Poker. Even if you don't know how to play they'll teach you.
Days: Tuesday
Time: 7 pm
For every $1 you spend on food and drink you'll get an extra $5 in chips to play.
Lil' Taco Shack
(Located within the Glen Ivy RV Park)
24601 Glen Ivy Road, Corona, CA 92883 (Map)

Monday:       11 am to 9 pm
Tuesday:       11 am to 9 pm
Wednesday: 11 am to 10 pm
Thursday:     11 am to 9 pm
Friday:           11 am to 12 am (Midnight)
Saturday:      8 am to 12 am (Midnight)
Sunday:         8 am to 8 pm
Breakfast Hours: Saturdays and Sundays, 8 am to Noon
Lunch Hours: Daily, 11 am to 2 pm
Taco Night Hours: Daily, 5 pm to Closing
Cash and All Major Credit Cards
Lil' Taco Shack Menu (.pdf, 778 KB)
To save the menu to your computer 'right-click' on the download link and select 'save as'.