Renovations are happening everywhere inside the Glen Ivy RV Park this year. It started with a new playground that was all of a sudden there. Then the roads were newly paved. More recently the picnic tables at each campsite were replaced. And these are only the tip of the iceberg.
Branndon actually just learned that Glen Ivy RV park is actually a non-profit organization. Campers can purchase shares for longer stays that come with extra perks, like less rent! The combination of this consistent income to the park plus the money earned with short term campers has increased recently. With that extra income (and the non-profit status) they are required to put some of that income back into the park itself. This has meant several renovations and remodeling projects have already occurred, with others still in the works. New ownership and management also helps this park run more smoothly than before.
(Hippies' Note: If you enjoy reading our articles, you'll love our newsletter. Receive updates directly to your inbox. Subscribe now!)
Recent Renovations
Several changes have been made to the property in the past few months, including a brand new playground for the children, new asphalt on the roads within the RV park, a new basketball court (that replaced the tennis courts), and new picnic tables at each campsite.
Bathrooms are being remodeled. Actually the closest bathroom to us has been undergoing renovations for awhile now and is supposed to be completed soon before moving to renovate the next bathroom.
A brand new basketball court has replaced the tennis courts located by the pools in the back.
The horseshoe pits have been completely redone.
In the mini park the bandstand is being replaced. Hopefully this is finished before the Chili Cook Off.
Playground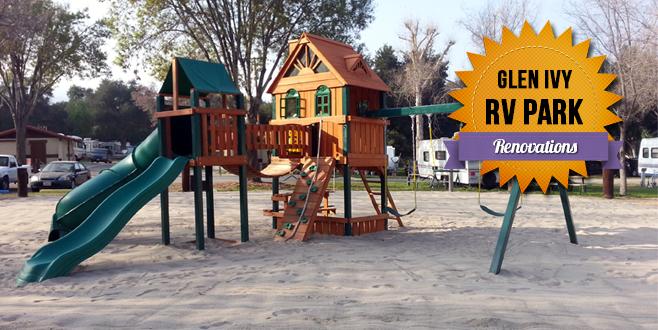 (I thought I had a couple of pictures of the playground before the renovations so you could see a before and after. Unfortunately I cannot find them anywhere on my laptop.)
Basically the older playground was a large area of wood chips, or bark. There was a swing set with 4 swings, a slide, a climber, and a large tractor tire buried halfway. It was not young child friendly at all and I found myself avoiding it altogether. The slide was very tall (I had to extend fully to reach her) and the top was open on both sides where Spirit could potentially fall off. I could only stand on one side and hope she didn't fall off the other side. It was also not kept up with trash.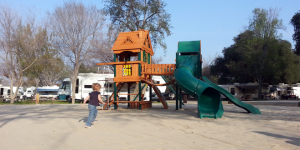 After the renovation the playground is a brand new play set, something more similar to what you would find in a backyard instead of a park. The bark has been replaced with sand and is raked daily. It's clean and the children from all over the park head here. I never knew there were so many kids here until it was redone.
Spirit and I still avoid the playground after about 2 pm most days, at least during . This is when the public school kids get out and it becomes a little hectic for a toddler to play around. In the mornings some children might be there as there are some home schoolers. We've met a few. They have all been very friendly, and surprisingly accommodating, with Spirit around.
It's funny, because we didn't even know the playground was going to be replaced. Then one night heading back to the trailer after a short evening walk we saw this new structure. As it was late we didn't take Spirit until the next morning and she absolutely loved it. Her shoes were off as soon as she got there and she ran all over the new area. I've heard some of the other children have found broken glass (from beer bottles) in the sand. Even though I have not seen any I still try to encourage her to keep her shoes on. Just keep an eye out for your child's safety.
New Basketball Court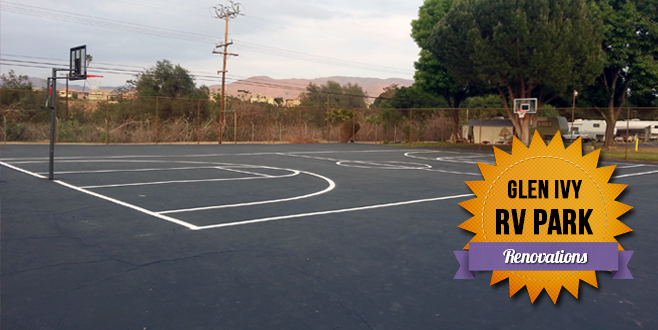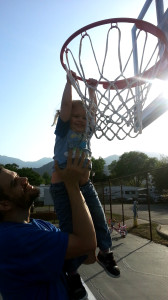 There is a new basketball court, with fresh asphalt, located near the Teen Center and swimming pools. We never saw the tennis courts that were replaced, but assume it wasn't used enough to keep. Instead it has been remodeled into a full basketball court.
Basketballs are available for adults with an ID from the front gate.
This area is large and flat, so sometimes we will head here for Spirit to ride her new bicycle. Although sometimes she just likes to run.
If you have children and are in need of a children's bicycle helmet, they are available at the front gate. You need an adult with an ID, just like if you get a basketball. Horseshoes are also available to play at the many horseshoe pits around the property.
Bathrooms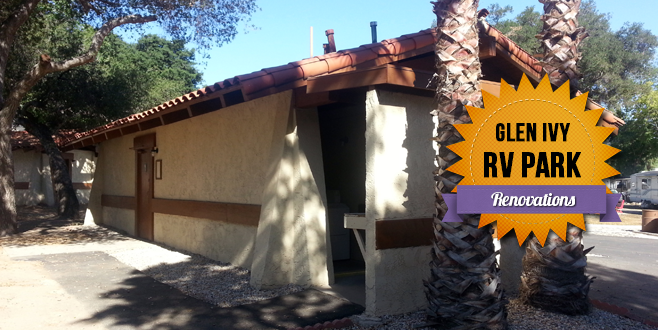 There are 7 restrooms located around the park for easy access from any campsite. Each restroom building is equipped with toilet stalls, sinks and showers inside. Located on the outside of each building are two sets of washing machines; 2 washing machines and 2 dryers.
The laundry machines are coin operated. We usually use the regular wash, $1.25 for about 36 minutes, and dry cycle, $0.75 for 45 minutes. Of course, if you choose another cycle for either it can cost a little more money and time. Quarters are typically available at the front office.
Before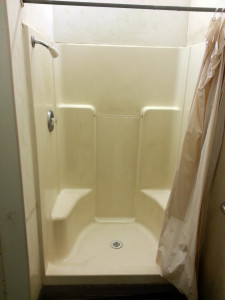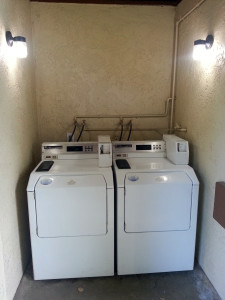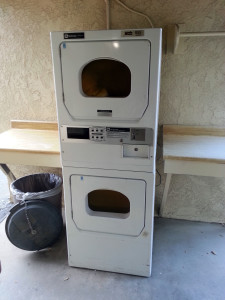 We haven't had any problems with the washers or dryers. This laundry nook area is located on the outside of the building with a roof. The light is timer operated (just like the restroom itself) and the switch is on the wall. It is a well lit area as long as the light works, only one has not worked for us.
The best time to use the dryers seems to be in the mornings, no matter what day of the week. Remember with the bathrooms being remodeled there are less available for all the campers. You may have to wait for others to finish before you get a machine, or be forced to move between buildings. If you have more than 2 loads to wash you may wish to take your car, just in case you do have to try another building.
Many of the buildings have showers that are out of order, some even have both showers out of order. These will be fixed as each building is renovated.
After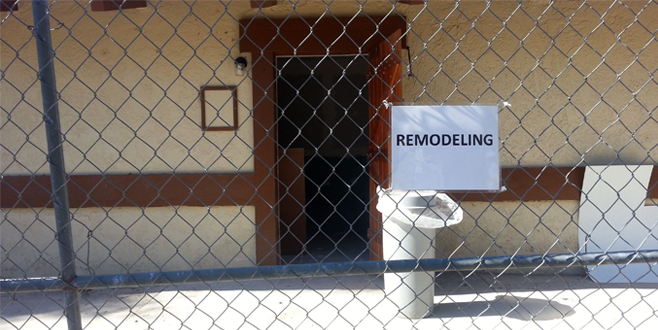 Currently  in the process of being remodeled, one restroom building at a time. 
Conclusion: Yay!
When we first decided to move into the Glen Ivy RV Park I wasn't thrilled with how rundown it appeared. It was the most inexpensive option near Branndon's work and included utilities. We didn't expect to be here that long and we're pleasantly surprised by all the changes they have made since we moved it.
I never saw the park before we moved in, Branndon had. There were not many pictures online that I could find and that is part of the reason why we try to include as many pictures and information as possible for other fulltimers and campers.
After moving in I was worried about finding things to do with Spirit as Branndon would take our car to work. Yes, they did have a playground, but there were no pictures online. When I finally saw the old playground it left me sad that I couldn't take Spirit to there to play as it was unsafe for a toddler. However, many of these issues I had were related to the visual nature of the park and it looking old.
Today most, if not all, have been remodeled and fixed. Simple changes like the new signs announcing the different activities and events, like Taco Night or the Chili Cook-Off, and the repaving of the roads inside the park were definitely welcome. While many cosmetic fixes have been made, and others currently in progress, the park looks newer and better maintained. There are rumors about other things changing as well, including the addition to WiFi being available (for a monthly fee) at the campsites. It's been months and no progress has been made. I doubt it will be added before we leave, but hopefully it is something they move forward with for future campers.
All in all, I recommend this RV park for other campers. To live here fulltime? I'm not so sure. If this interests you, then I suggest you read our full review of the Glen Ivy RV Park. It includes several different accounts of our experiences here at the park.
What do you think about these renovations? What else should be done? Let us know what you think in the comments.