Sometimes you need a little motivation to kick into a higher gear when working. Branndon and I wanted to relight the fire to work even harder so we could start our digital nomadic adventure. We thought if we took a look at an RV dealership it would inspire us and decided on visiting Southwest Coaches.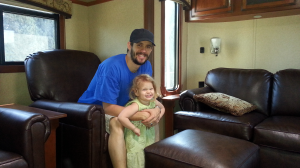 (Hippies' Note: If you enjoy reading our articles, you'll love our newsletter. Receive updates directly to your inbox. Subscribe now!)
After our many quick trips to Giant RV and Mike Thompson RV in the past (when we were first looking) I had expected a similar experience. I was so wrong and couldn't have been more pleased at that.
Southwest Coaches: No Pushy Salespeople?!
The first thing I noticed about Southwest Coaches was the lack of pushy salespeople. It was a relaxed atmosphere with a friendly woman behind the counter in the office.
There were no salespeople trolling the lot (cough Mike Thompson). No forced salesperson to even be allowed to look on the lot (ahem Giant RV). It was a relaxed environment on the smaller lot with less choices. But I really enjoyed myself. I think Branndon and Spirit did too.
Goal: What do we really want?
Branndon and I weren't try to waste time while we were out running errands. We had a purpose of this visit in mind. We needed to get a better idea of what was available and what we really wanted in an RV.
Our goal was to decide whether we wanted a Class A motorhome or a fifth wheel trailer (plus the truck).
Touring the RVs
We spent about an hour (total!) browsing through their new and used RVs. I loved seeing the new RVs, it inspired me. Branndon didn't like seeing the new ones as much. He couldn't imagine us ever being able to afford one. He thought they'd be well over six figures. And that was for an entry model without the bells and whistles.
(Please note these photos were all taken with my Samsung Galaxy S3, but the quality is pretty good I think.)
New: 2014 DRV Mobile Suites 38RESB3
Instead we were happily surprised when we toured the DRV Mobile Suites trailer (38RESB3). It was (almost) exactly what I wanted. Large open living space, a kitchen island and plenty of cabinet space, a popup television that hides behind the fireplace and a L-shaped sectional. It was listed under $100K, but I cannot remember by how much (I forgot to take a picture of the pricesheet). The MSRP price is $152,778.

Used: 2012 Redwood 36FL
Then we saw the used Redwood 36FL next. It had 5 slides! What was so unique was the fact it had glass patio sliding doors and a front living area. The kitchen was very large for an RV. We both loved this design, but hated the stairs in the main living area for Spirit. It cut down on her room to run with the kitchen taking up more space and the stairs separating it from the living space.
Here was the best part though. It had only been taken out three times. The original owners bought it for over $120,000. Southwest Motors is now selling it for $62,500. That's a huge drop in price and this is when Branndon got excited. The prices were lower than expected. He now saw our perfect RV Dreams more of a possibility.
Other RVs We Saw
There were so many RVs, mostly fifth wheel trailers with a couple preowned Class A, Class B, and Class C motorhomes. They had several Airstreams (crazy expensive for the size!) too. But the two above were the ones we liked the most.
Conclusion: We Can (Eventually) Afford It!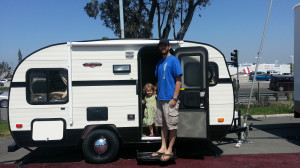 After seeing so many beautiful fifth wheel RV floorplans and interiors, we knew we wanted a fifth wheel again. Branndon and I were headed into getting a Class A motorhome to make it easier to move around, but the lack of space just wasn't worth it for us. Instead we will be getting a fifth wheel trailer with a pickup truck. Our thoughts are something in the 36-38 foot range and a one-ton diesel engine truck, probably a Dodge or GMC.
The night when we got home from our errands Branndon and I browsed the internet for used trailers on Craigslist and RV Trader. Of course we found better prices at Craigslist and will be using that as our primary source for locating an RV. The trailers shown above were in the $65,000 to $100K range and we found several comparable options on Craigslist priced between $20,000 to $40,000. Some were even located on dealer lots. Nice savings in our opinion. Plus we would be able to afford a new(er) truck for around $15,000 (again found several on Craigslist).
Craigslist will be great as we are not going to be limited to a specific area. We can travel to the RV to buy it, if we needed to. However, seeing these prices caused sticker shock (in a great way!). Branndon is now thinking we'll just special order one from an RV dealership. I'm excited since I would love that. I wouldn't have to worry as much about it being in poor condition or having hidden flaws if it's new. Plus the added security of a manufacturer's warranty. And I've never bought anything this big new before.
For now that's our plan. Will it change? Probably. 😉
Do you ever check out RV dealerships, just for fun? Let us know your experience in the comments below.